Today is pie day.
Yep it seems that through the powers of the internet we can now declare a whole day to be dedicated to the celebration of the humble pie. Classic huh?
When
Shauna
put the word out that her and a bunch of friends were all making pie and posting on the 5th of July and would I (actually everyone and anyone, but I like to think she was talking just to me) like to join in, I thought heck why not? I like pie.
I'm not one to go all gushy and gooey talking about pie per se. I've always been way too much of a health nut to really allow myself to fall for pie properly, but I like it on the odd occasion. I really do.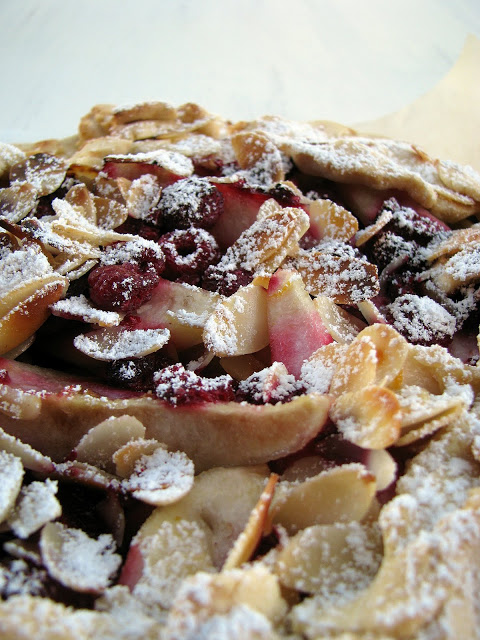 Working predominantly in the pastry section for most of my professional cooking life I've made my fair share of pies. Big ones with sour cream pastry, little ones with ginger, teeny tiny bite-sized ones with chocolate pastry, fancy lattice topped ones and simple rustic apple berry pies to go with thick homemade custard. I like pie. But what I
really
love is making the pastry. There is something about taking the simplest of ingredients and with a quick flick of the wrist~or food processor in my case, turning them into something that is loved by all. Like I've said in past posts a lot of people seem to be scared of making pastry and would rather go out and by pre-made or ready rolled. That's fine, sometimes. But nothing and I mean
nothing
beats homemade pastry. Read my
tips and tricks here
if you feel you need any further encouragement to try homemade. Or read Shauna's
great post
on pastry and pie.
It was in Home Economics class at high school that I first learnt to make pastry. As a hungry teenager I was totally smitten and feeling rather proud of myself, made quiche after quiche, after quiche one holiday when I stayed up North with my (then) boyfriend and his family.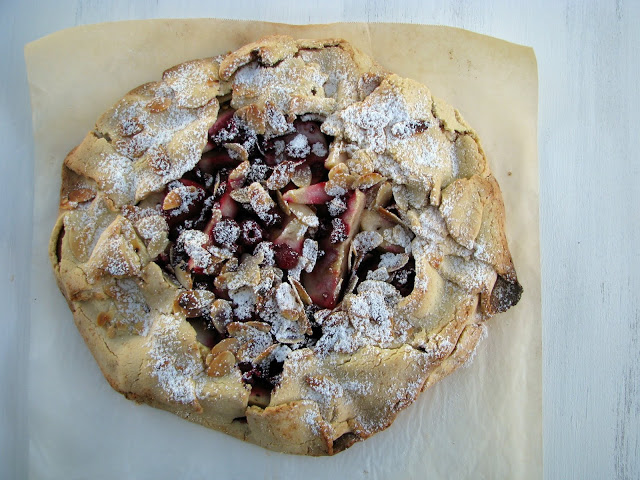 When I was even younger, 12 maybe? I worked, like all of my friends did at the local dairy (deli for you Aussies and corner store for everyone else). It was a famed dairy, in all of its pink glory. The Duck Inn. That place was classic. Odd names and gaudiness aside that place made the best pies. In a time when most dairies brought in all their pies (actually what am I talking about, they still do now? Mind you there are a lot more boutique-style handmade ones available nowadays) this one was different. All pies were made onsite, albeit using pre-rolled pastry. We had people coming from all over the North Island to buy pies. Me being vegetarian, there was only one that I could sample. The apple pie. Having not grown up on mince and cheese pies or potato topped pies like 99% of New Zealand, eating a hot apple pie from a shop was the biggest treat ever! Sometimes if I was really lucky, I could pull the top off and scoop in a big ball of vanilla ice cream just to add to the decadence! I love the hit of icing sugar on the roof of your mouth as you take that first bite, leaving its powdery glow all over your lips (and up your nose). Okay so maybe I am just a little partial to waxing lyrical about the great pie! Just ignore what I said above.
So when faced with which pie to bake that was just a little bit more exciting than your usual apple pie, my mind quickly turned to one of my favourite combinations. Sweet juicy in-season pears and soft tart raspberries. I used frozen berries but if you are lucky enough to be enjoying summer in the Northern Hemisphere right now, I'd make the most of all the fresh berries around.
Happy Pie day.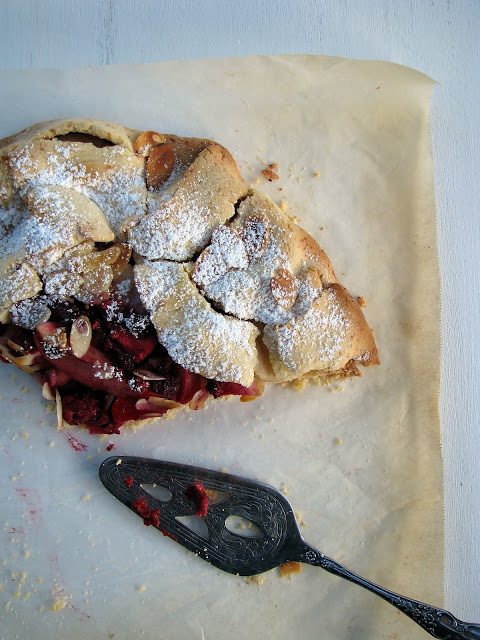 gluten-free raspberry, pear and almond crostata
You can use brown rice, white rice or sorghum flour in place of the millet flour if preferred. Simply substitute by weight, not cups to be most accurate. I know this is really confusing, but in NZ and Australia what we know as "potato flour" is actually potato starch. That's what I've used in this recipe. In the states they have both potato flour and starch so that's where things get tricky. Americans; use what you know as potato starch. NZ and Australian readers; use what we know as potato flour. Glutinous rice flour (aka sweet rice flour), is available for next to nothing at your local Asian grocery store. I've used pears and raspberries for this crostata but any in season fruit will do; apples, plums, berries, stone fruit. All yum.
Serves 8.


Pastry
1/2 cup (60g) fine millet flour
1/2 cup (60g) tapioca flour
1/2 cup (96g) potato starch
1/2 cup (102g) glutinous rice flour (sweet rice flour)
2 tablespoons organic raw sugar (fine)
pinch salt
115g butter (8 tablespoons), chopped into small dice
1 large egg, lightly beaten
1-2 tablespoons of ice-cold water
Filling
4 medium pears (approx 750g), peeled and cut into 1/2cm wedges
the zest and juice of 1/2 lemon
2 tablespoons organic raw sugar
3 tablespoons almond meal (ground almonds)
1 heaped cup (125g) raspberries, fresh or frozen (don't thaw)
1/4 cup (20g) flaked almonds
egg-wash or soy milk to brush
pure icing sugar (powdered sugar) to dust
To make the pastry, place the flours, sugar and salt into the bowl of a food processor. Pulse a few times to combine. Add the butter and pulse until the mixture resembles fine breadcrumbs. Add the egg and pulse 1-2 times. Add the water 1 tablespoon at a time, pulse. Stop and check to test if more is needed. To do this pick up a little of the dough in your hands (it will still look like crumbs), squeeze it together between your fingers to see if it holds together. If it does, your done. If not add another tablespoon of water, then test again. The less water you have to add the better. If you are happy enough water has been added, tip out the contents of the processor onto a clean work bench and gently knead the dough together to form one smooth ball. Flatten slightly and shape into a disk. Wrap and chill in the fridge for 30 minutes.
Prepare your filling by placing the pear wedges, lemon zest, juice and sugar into a medium bowl. Gently toss together to coat the pears evenly. Set aside until needed (the lemon juice will stop the pears from discolouring, so no need to worry about that!).
Preheat your oven to 200 C/390 F. Remove the dough from the fridge and roll between two sheets of baking paper dusted with extra rice flour to form a 33cm disk. Keeping the pastry on the bottom layer of baking paper transfer to a baking tray. Sprinkle the almond meal over the pastry leaving a 5cm boarder. Arrange the pears over the almond meal and top with raspberries.
Fold the pastry over gently at the edges to form a rustic pie. (Don't worry if bits break or crack, simply press them back together, it's rustic... who cares!) Brush the rim with egg-wash or soy milk and sprinkle with flaked almonds.
Bake for 35-45 minutes or until the pastry is golden and the pears are tender. Stand for 5-10 minutes before dusting with icing sugar and serving slices with ice cream, thick yoghurt or whipped cream.