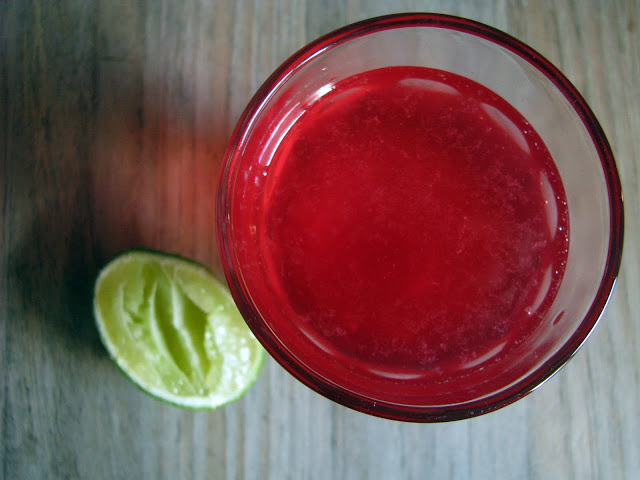 Our backyard is awesome. It's fully enclosed so the kids can happily play out there alone without any fear of them running onto the road. It's flat. There's grass. Trees. Two lemon trees. Rose bushes in full bloom. And an overgrown hibiscus plant covered with bright pink pom-pom like flowers.
One day recently as the kids and I were playing out there, Ada asked if she could pick some flowers to play with (she likes making smelly "stews" out of them, with water and grass). You know what? I said. Why don't you guys help me to pick all of the flowers on here, and we can make hibiscus cordial! The kids thought I was slightly mad, but went along with it anyway. We're gonna eat flowers mama? They laughed. We sure are kids, and you're going to love it. I promise.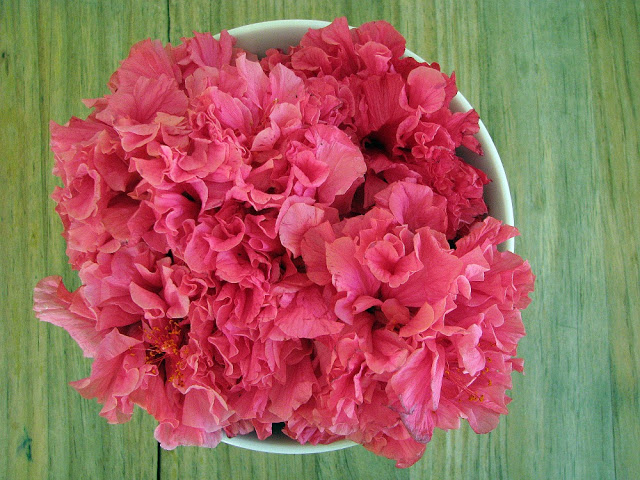 On one of my late night blog reading missions recently I read of a
sparkling Rosella water
that had me looking at my hibiscus flowers in a whole new light. I love hibiscus tea made with dried flowers, but using fresh petals is all new to me.
The kids helped pluck the petals off the stems until they realised how much work was involved and left me to it. See, our hibiscus flowers are not the beautiful smooth
5 petal variety
that grace most Hawaiian postcards, but rather the slightly over-the-top, frilly numbers you see above. Ants and other critters seem to be drawn to them, making the soaking stage in the recipe a
must
to dislodge any die-hard ants or bugs.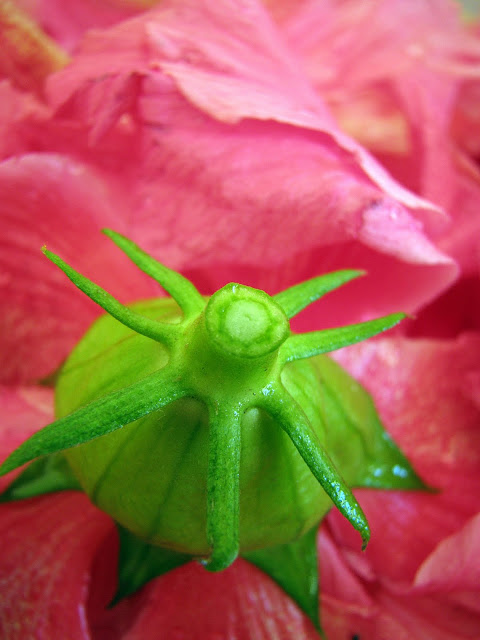 It's all rather straight forward from there on in. Soak the petals in lemon juice to soften, add to a simple raw sugar syrup and cook until fragrant and deep crimson in colour. The syrup will keep quite happily in a glass jar or bottle in the fridge for up to 2 weeks. It not unlike cranberry juice really, a little bit tart, a little bit sweet. I imagine it would be really lovely as a base for cocktails; a little vodka, soda water and lime juice if that's your thing. Or have as we did, topped with sparkling mineral water and a squeeze of fresh lime juice.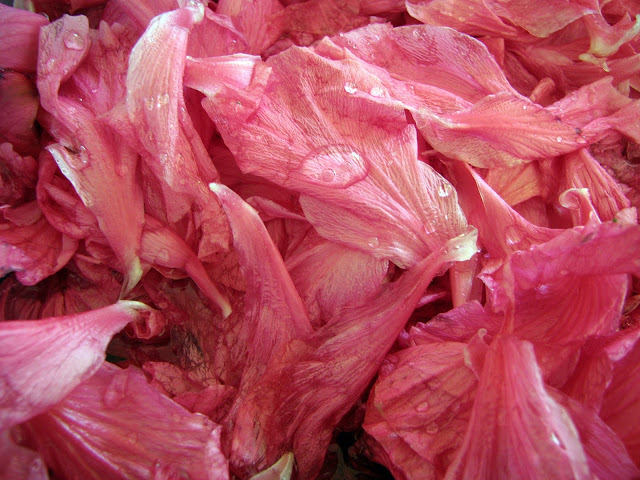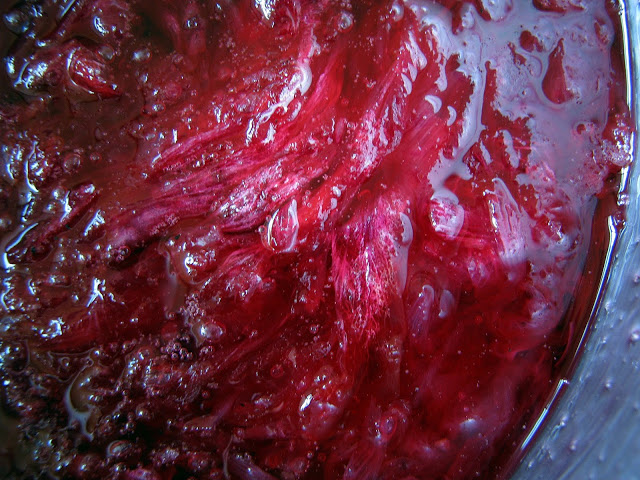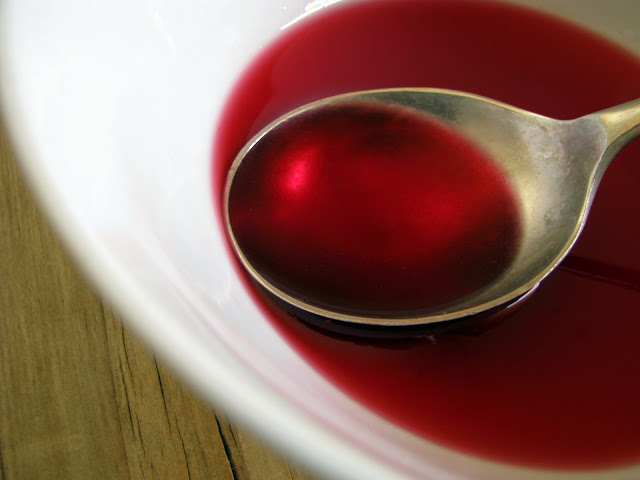 While we're on the subject of our back yard I thought it was about time to update you all on our vegetable garden. Or lack of to be more accurate. I miss our garden back home in Raglan so much! After having a vegetable garden for the past 8 years (not to mention my parents rugby field sized garden when I was growing up) it really is something new to get used to not being able to simply pop out daily to see what's on offer. See the thing is, we've moved into a house where digging in a garden is just not possible. However, after thinking we'd only be able to get away with a few transportable planter boxes, we have since found a lovely wee spot that will be perfect to use as a garden bed. We can simply use it as a garden bed while we're here, remove all traces of vegetables when we leave and no-one will ever know, right? It's a large rectangular space where the past tenants dumped all their lawn clippings. It doesn't get the best light, but we are hoping there will be enough, even if it's only to grow a crop of garlic, some silver-beet and rhubarb. So along with my pots of herbs and the two lemon trees already here we should be pretty happy. I'll keep you posted as we go and I'm hoping by spring I should be able to share a few more gardening tips with you all.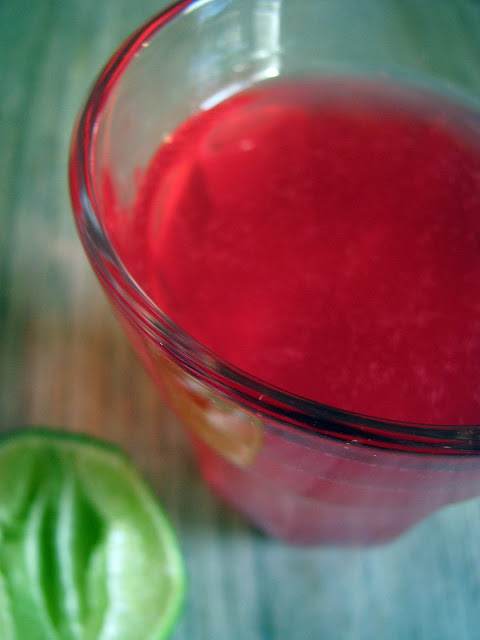 fresh hibiscus cordial
This recipe can be doubled if you have access to ample hibiscus flowers. Lime juice can be used in place of the lemon juice if preferred too.
Makes approx 1 cup of syrup, enough to make 5-6 drinks.
150g fresh red or pink hibiscus flowers
1/4 cup (60ml) lemon juice
1 cup (200g) organic raw sugar
1 cup (250ml) water
Chilled sparkling mineral water and fresh lime juice to serve
Wash the flowers thoroughly and pick off the petals (discard stems and stigma). Place in a large bowl, cover with clean water and soak for 10 minutes to remove any bugs etc. Rinse well again and drain. Pour over lemon juice and mix to coat. Set aside 20 minutes.
Place the sugar and water into a medium saucepan, bring to the boil over medium-high heat and simmer for 5 minutes. Add the petals and lemon juice and cook for a further 5-10 minutes until syrup is fragrant and stained a beautiful deep crimson colour. Remove from the heat and set aside to cool. Once cold, strain through a fine mesh sieve into a clean jar. Use immediately or store in the fridge for up to 2 weeks.
To serve place 2-3 tablespoons (to taste) of syrup into a glass with plenty of ice. Top up with chilled sparkling mineral water and a good squeeze of fresh lime juice.