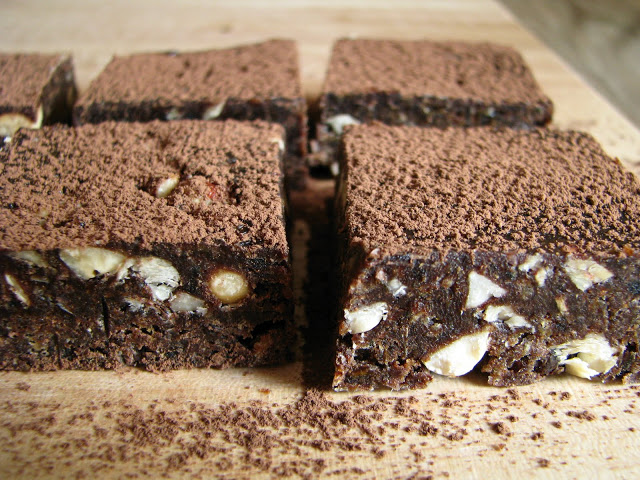 That's not exactly what I should be naming these babies, but sometimes I just feel it's a little bit of an over-kill to write gluten-free, dairy-free and sugar free in the title of a recipe. Even if that's exactly what this is. Would I sound like a real geek if I mentioned too that these are raw also? If you leave out the toasting of the hazelnuts that is. I couldn't help myself. The chef in me just had to do it. I love raw cashews, eat raw almonds by the handful. Brazil nuts, pecans, sunflower and pumpkin seeds… you guessed it, raw. But hazelnuts, never.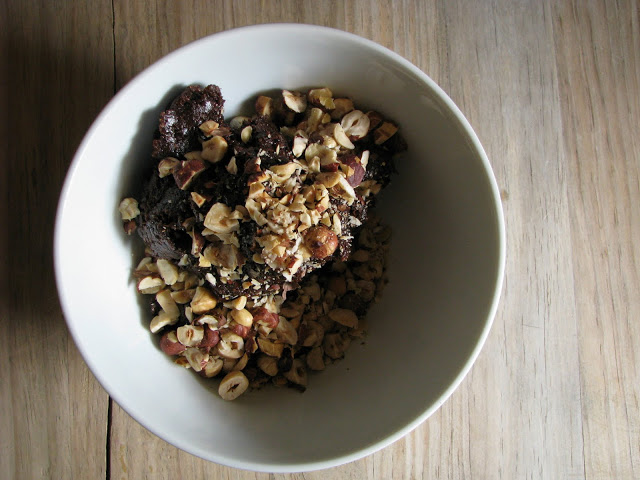 Nothing beats the earthy aroma and crisp crunch of freshly toasted hazelnuts. Mixed with anything chocolaty and you've got me in one bite. Like my
carob tofu bliss balls
from a wee while back, this slice is naturally sweetened with dates and maple syrup, making it one of those treats you really don't mind the kids eating as often as
they
like. I used dried dates but if you can get your hands on (and afford) fresh medjool dates, go ahead, knock yourself out! I imagine they'd make this slice mind blowing. If you can eat butter, feel free to use that in place of the coconut oil, omitting the salt if you do. Honey can be used in place of the maple, however I prefer the lovely not-so-sweet and in your face nature of maple. Agave would be another good substitute if that's your thing.
Adapted from this recipe @ Green Kitchen Stories.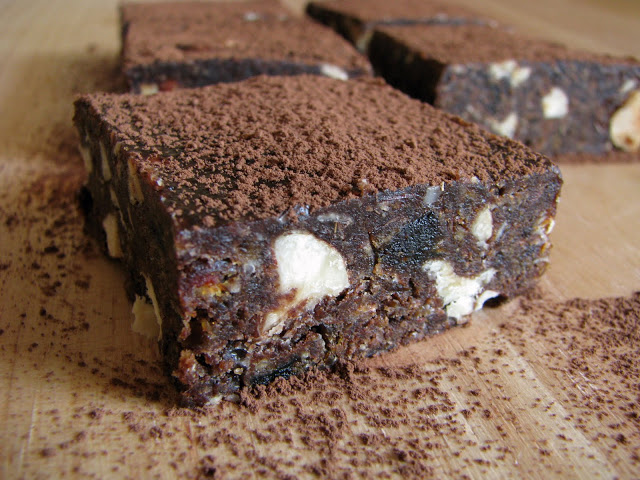 chocolate hazelnut slice
You can buy pre-ground flaxseeds (linseeds) or grind your own in a coffee grinder. Store any excess in the fridge or freezer as they tend to go rancid quickly once ground.
Makes 8 decent slices
2 cups (265g) dried dates
4 tablespoons coconut oil
2 tablespoons maple syrup
2 tablespoons cocoa powder
1 teaspoon pure vanilla essence
1/2 teaspoon ground cinnamon
2 teaspoons ground flaxseeds (linseeds)
2 small pinches fine sea salt
1/2 cup (60g) hazelnuts, toasted, skins rubbed off and roughly chopped *
cocoa powder, extra, for dusting
Place all the ingredients except for the hazelnuts into a food processor and blend until the mixture is reasonably fine and paste-like. You may need to stop the machine on occasion and mix it with a spoon to help your processor along.
Transfer date mixture to a medium bowl and mix the hazelnuts through by hand. Press the mixture into a baking paper lined tin (I used a loaf tin), smoothing off the top with the back of a spoon.
Refrigerate for at least 1 hour or preferably overnight before slicing. Dust with cocoa powder if you like and serve. This will happily store in an air-tight container in the fridge for 5-7 days, if for some strange reason it's not eaten before then!
* To toast the hazelnuts, cook in a preheated oven at 180 C/350 F for 8-10 minutes, shaking the tray a few times during cooking, until golden. Remove from the oven and tip onto a clean tea towel. Rub the hazelnuts between the towel to remove some of the skin. You will probably not be able to remove all the skin, that's fine, do your best.
This recipe has been linked to:


*Go ahead honey, it's gluten-free & sugar-free Sunday~ Flip cookbook
* Slightly Indulgent Tuesday~ simply sugar & gluten-free