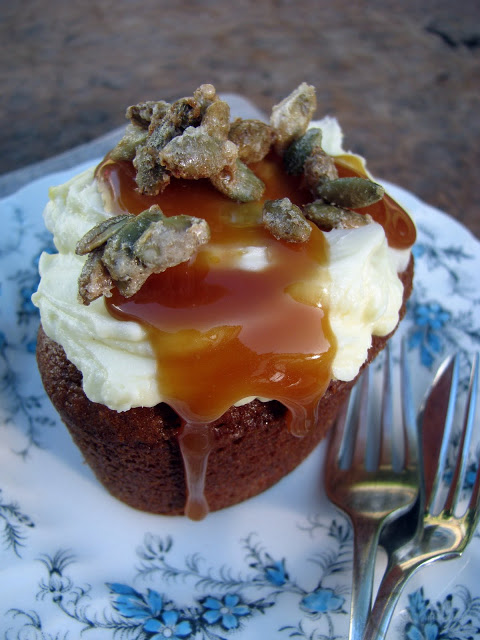 I have heard on more than one occasion people commenting on how unfair it is that I don't just let my kids eat what ever they want. Why don't you just let them be kids? They will end up being the fussiest eaters when they grow up, you know. It must be so hard eating they way you do, they must feel really deprived. Yes. I hear you.
It may seem like I'm the big bad, over-the-top hypochondriac mother who is so scared of the world that I won't let my kids just eat whatever. Some may even call me a control freak. A few have. But I'm not. I'm just a mum, who wants my kids to be happy, pain and excema-free. It's that simple. If it means we have to eat a certain way, then so be it. I think if anyone should be moaning about it, it should be the kids right? But they don't. I make sure of that by cooking for them whatever their little hearts desire; you want pizza? Sure, I'll make you a version you can eat. You want cake? Sure, how about sweet little gluten-free pumpkin cakes with caramel cream cheese icing?
Deprivation. I think not.
The only time I've ever really felt like the grinch who stole kids happiness, is when a Mr Whippy van drove down our street recently. Ada knows from one time before when it went past that she couldn't eat anything on offer. She simply peered out the window and murmured I hope Mr Whippy makes his cones gluten-free one day mum. My heart broke.
I have such fond memories of staying with my aunt and uncle in Auckland (the big city to my small-town eight-year-old self). Hearing the
faint jingle
from down the road, running out as fast a we could just in case we somehow missed it, to get a ice cream cone, flake topped if we were lucky.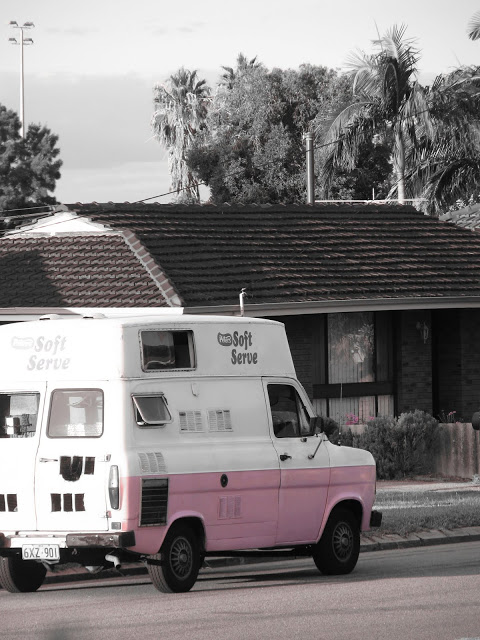 With most things I try to make sure that I am prepared with suitable gluten-free alternatives, whether it means making muffins to take along to a birthday party in lieu of the cake, or buying gluten-free cones to make our own ice cream at home in summer time. But there is something about the whole Mr Whippy experience; the excitement as you hear the van coming from down the road, the running, the choosing, that makes it so much more than just the ice cream.
Now, I'm not about to go out and buy a Mr Whippy van to serve gluten & dairy-free ice cream cones just to appease my nostalgia. But one thing I can do to treat my kids, is make cake. I mean really, you can't say that my kids are hard done by as far as food goes. Sweet little gluten-free pumpkin cakes with caramel cream cheese icing anyone?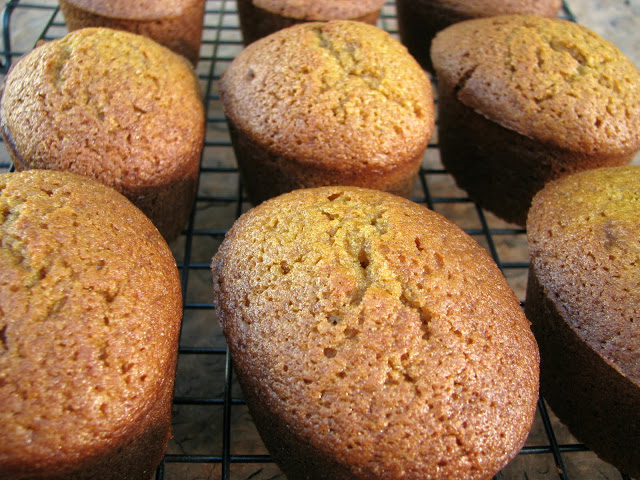 These cute little pumpkin cakes will kick any hankering for sweet treats you may have. Lord knows I've been having plenty of them lately. Eight weeks without barely any baking other than my quinoa Anzac cookies, although good for my waistline, has not been so good for my insatiable sweet tooth!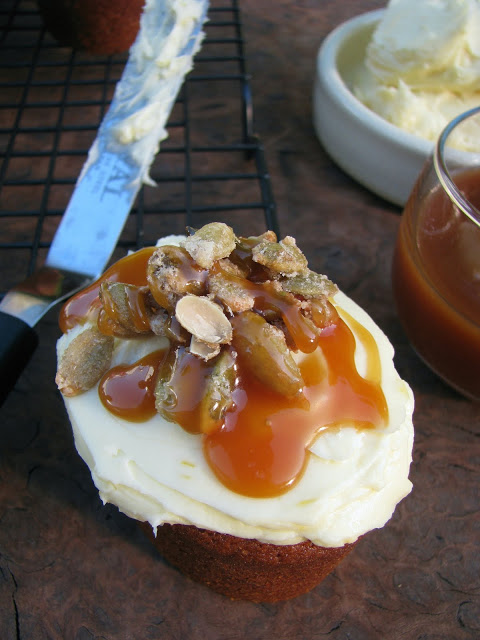 Delicately spiced with a tender crumb these little cakes are perfectly fine to eat by them selves, un-iced if you are strictly dairy-free. We ate about half of ours like this, after Kye decided he liked them plain. Perfect really, as he is the one out of all of us that reacts to dairy the most. Smart boy.
Or if you are in for a real tooth achingly sweet treat, go for the full shebang. Cream cheese icing, smooth caramel sauce and crunchy sweet toasted pumpkin seeds.
I was just thinking... maybe I need to find a song that I can play every time I've baked a cake? You know, the kids hear it, get excited knowing what it means, come running, grab some cake, leave happy as.
Just a thought?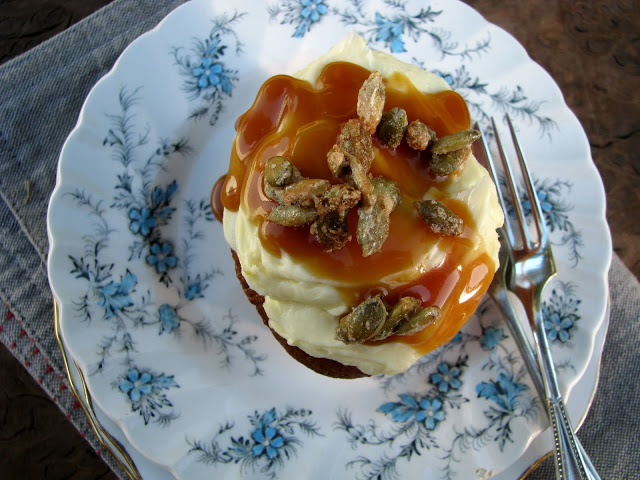 little gluten-free pumpkin cakes with caramel cream cheese icing
The actual cakes here are dairy-free. If you are strictly dairy-free simply use soy cream cheese in the icing, and dairy-free margarine. I find soy cream cheeses to be on the sweeter side, so I'd just add icing sugar to taste. Use coconut cream in place of regular in the caramel. Cakes keep well 2-3 days. Store airtight if un-iced or covered in the fridge if iced. Store toasted seeds airtight and caramel sauce in the fridge.
Makes 23.

caramel
1 cup (200g) organic raw sugar
1/4 cup (60ml) water
1/2 teaspoon lemon juice
1/2 cup (125ml) cream
1 teaspoon pure vanilla essence
cake
1 1/2 cups (180g) fine brown rice flour
3/4 cup (90g) quinoa flour
1/2 cup (50g) tapioca flour
1/2 cup (55g) ground almonds (almond meal)
2 teaspoons baking soda
1 teaspoon fine sea salt
1 tablespoon ground ginger
2 teaspoons ground cinnamon
1/2 teaspoon ground nutmeg
2 cups (400g) organic raw sugar
1 cup (250ml) rice bran or olive oil
4 large eggs, at room temperature
1 1/2 cups (425g/15 oz) pumpkin puree *
2/3 cup (160ml) cold water
toasted pumpkin seeds
1/4 cup (30g) raw pumpkin seeds
1 egg white, lightly whisked
1 tablespoon organic raw sugar
cream cheese icing
230g (8oz) cream cheese
115g (1/2 cup) butter, softened
1/2 cup pure icing sugar (powdered sugar), sifted
the juice and zest of 1/2 lemon
To make the caramel sauce; place the sugar, water and lemon juice into a heavy-based pan. Bring slowly to the boil over medium heat. Do not stir, simply swirl the syrup around a few times until the sugar has dissolved. Boil until the syrup turns a light golden amber colour, remove from the heat and gently with your arm at a length, pour in the cream (it may splatter so take care) and vanilla. Swirl to fully incorporate. Pour into a bowl and set aside to cool.
To make the cakes; Preheat oven to 180 C/350 F. Grease either 1x12 hole friand tin (you will have to cook the mix in two batches) or 2x 12 hole friand tins if you have them. Sift all the flours, baking soda and spices into a large bowl. Using a whisk, give it all a good few mixes to fully combine the flours (important for gluten-free baking). In another smaller bowl, whisk the sugar and oil until blended. Beat eggs in, one at a time, until the mixture goes all lovely, thick and glossy. Combine the pumpkin puree and the cold water and stir into the egg mixture. Pour into the dry ingredients, and mix to fully combine. Spoon mixture into friand tins (like I said before, you will have to bake in two batches if you just have one 12-hole tin), and bake for 15-20 minutes or until risen, golden and cooked through when a skewer inserted into the centre comes out clean. Remove from oven, cool in tins 5 minutes before transferring to a wire rack to cool completely.
To make the toasted pumpkin seeds; place seeds into a small bowl, add just enough of the egg white to coat lightly. Toss with the sugar, spread out onto a lined tray in a single layer. Bake at 180 C/350 F for 5 minutes, remove and mix, cook for a further minute or until golden and crispy. Set aside to cool.
To make the cream cheese icing; beat the cream cheese and softened butter together until light and fluffy. Add icing sugar, zest and juice and continue to beat until fully incorporated.
To assemble cakes; once cakes are cool, ice with cream cheese icing, drizzle over a little caramel sauce and sprinkle on some toasted pumpkin seeds.
* To make the pumpkin puree; roast chunks of peeled and seeded pumpkin (you will need approx 1/4 large crown pumpkin for this recipe) with a touch of vegetable oil at 190 C/375 F until cooked through. Puree with a stick blender until smooth. You can pass the mixture through a sieve using a metal spoon if you want a really smooth puree. Cool before using. This stage can be done 1-2 days before you need it, if you want to cut down on cooking times. Pumpkin puree can also be frozen and defrosted when needed.