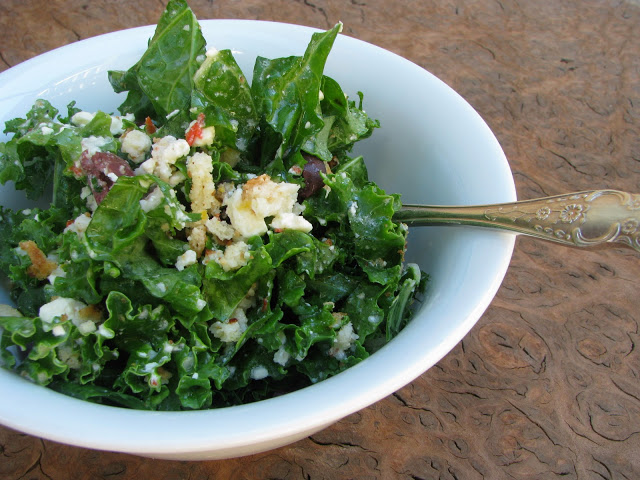 I've been cooking with kale for a number of years, way back in my Sydney days at
Belinda Franks catering
, baby cavolo nero was all the rage. The trend took a wee bit longer to hit New Zealand shores but I'd say about 5-6 years ago I noticed it creeping onto menus around the country. My beloved Nana and grandad however, have been cooking and eating it for as long as they can remember, in fashion or not. It's a great source of iron, calcium, vitamin C, K and carotenoids (which provide Vit A). Because it was not readily available for purchase back home in Raglan, the only way I could get my hands on some was to grow my own.
So I did.
For the past three years we have grown at least 2-3 plants, along with cavolo nero, also known as Tuscan kale or laciniato if you're feeling flash. But here's the thing… the white butterflies and white flies love kale as much as I. Trying to keep those damn things off my kale was near impossible, so grow I did, but eat I did not. Not often anyway. Occasionally I would have the patients and determination to pick off a handful of leaves only to spend the next half an hour thoroughly scrubbing washing the underside of the leaves where the white flies live. I've always cooked my kale, too scared to dare eat it raw in case I was getting an added and unwanted protein hit of raw bug. I would then proceed to eat it, not really enjoying my meal. The idea of eating bugs not being the most appetizing of thoughts.
So it was with much happiness and relief that I graciously accepted a (huge) bag of curly "Scots" kale from my sister-in-law the other day. Not one bug in site! I have been thinking about a
raw kale salad recipe Heidi posted
on her blog late last year, a riff on a raw Tuscan kale salad with chiles and pecorino recipe from Melissa Clark's cookbook
In the Kitchen with A Good Appetite
.
Heidi's recipe called for cavolo nero, red pepper flakes and pecorino cheese, but as my tummy doesn't really do hard cheese's I've gone for a feta cheese flecked dressing instead. The curly kale doesn't quite have the deep moody colour of cavolo nero and I struggled with the whole thing looking a little 90's curly lettuce naff, but flavour wise they are match for match.
This recipe couldn't be any easier, fresh kale tossed with a garlic, feta and chilli dressing, sprinkled with handful of homemade gluten-free breadcrumbs, and freshly pitted kalamata olives. Easy.
And the great thing about a recipe like this is that it actually improves with time. Make it, say for lunch, and it will still be perfectly acceptable to eat the leftovers for dinner. Well, that's what I did anyway. The lemon juice helps to slightly soften the leaves, but if you choose nice fresh crisp kale, and remember to remove the hard inner stem you're half way there already.
Now onto making my salt and vinegar kale chips…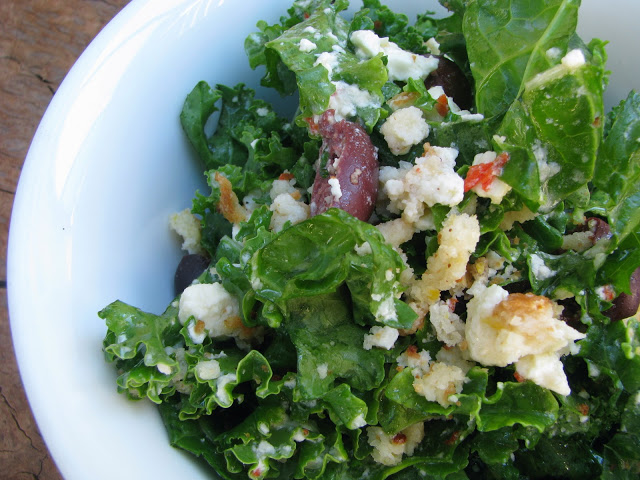 raw kale salad with garlic feta dressing
I tend to avoid those nasty pre-pitted olives at all costs, and buy whole kalamata olives with the pits instead. To remove them, simply press onto the side of each olive, slightly squashing, tear the olive in half and remove the now loosened pit. The original recipe used red pepper flakes, but here I just used what I had at hand. That happened to be a birds eye chilli. Use either either, or whatever chilli you have.
Serves 4-6.
1 small bunch of kale (you are after 4-5 cups once trimmed)
1-2 slices of gluten-free bread
1 clove garlic
1/4 teaspoon sea salt
1 birds eye chilli, de-seeded and finely chopped
freshly ground black pepper
the freshly squeezed juice of 1 lemon (1/4 cup)
3 tablespoons extra virgin olive oil
1/4 cup firm feta
1/4 cup freshly pitted kalamata olives, sliced in half
Wash the kale well and spin in a lettuce spinner to remove excess water. If you don't have one (like me), simply wash and place onto a clean tea towel, roll up the edges to encase the leaves and shake it around a few times, firmly. Remove the thick inner stem and roughly chop the leaves into 3-4 cm strips. Place into a large bowl and then get onto making your breadcrumbs and dressing...
Toast the gluten-free bread until both sides are golden brown, and the centre is reasonably dry. Roughly tear into pieces and pulse in a food processor until you achieve coarse bread crumbs.
Peel and finely chop the clove of garlic, sprinkle with the salt and using the edge of your chefs knife, mash into a paste. Transfer to a small bowl and add the finely chopped chilli, adding a few seeds too if you like things hotter. Add a few grinds of black pepper, the lemon juice and with a fork whisk in the extra virgin olive oil.
Roughly crumble the feta into the dressing, making sure you leave a few nice big chunks as it will break down further when you mix the whole salad together.
Pour dressing over the kale and using you hands (it's easiest!) gently mix the dressing thoroughly through the leaves. Set aside for 5-10 minutes to let the acid in the dressing slightly soften the leaves. Add the pitted kalamata's and breadcrumbs, give it all one last final mix and serve drizzled with a little extra olive oil if you like.