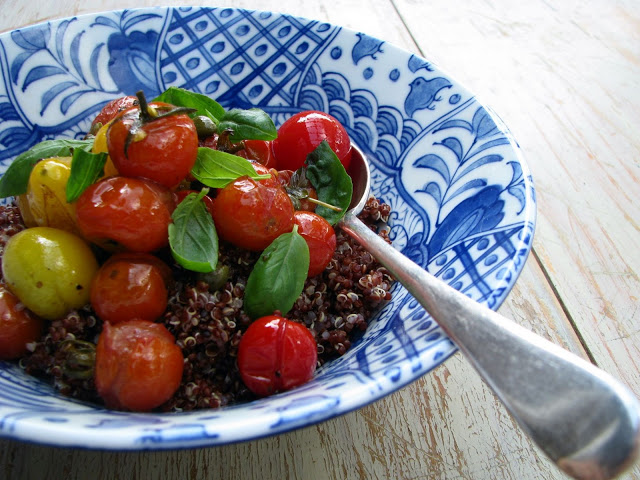 So once again, I'm not quite sure where to begin today's post. It may have something to do with the fact that I am so insanely busy at the moment that my brain feels fried? You may remember me talking about heading to Wellington to make an appearance on the Good Morning show. Well, that got completely cancelled, no pre-record, nothing. They decided to run a show about the Christchurch earthquake instead. I get that, I really do. But I was only told about this after I had already arrived in Wellington! I won't go into detail about how upset or disappointed I feel not being told until I had already left Raglan, but let's just say I really didn't need the added stress that the whole failed trip caused.
We are three days away from flying out to Perth to start our new Australian life. Any spare moment is being spent sorting, packing and organizing all our stuff. What's getting shipped to Perth, what's getting stored here, what we are taking with us on the plane, what we are giving away, selling…?
I don't think I have ever been so stressed in my life, they do say moving and getting married is two of the most stressful things you will ever do. We are completely mad and are doing both within two weeks of each other. Mental eh?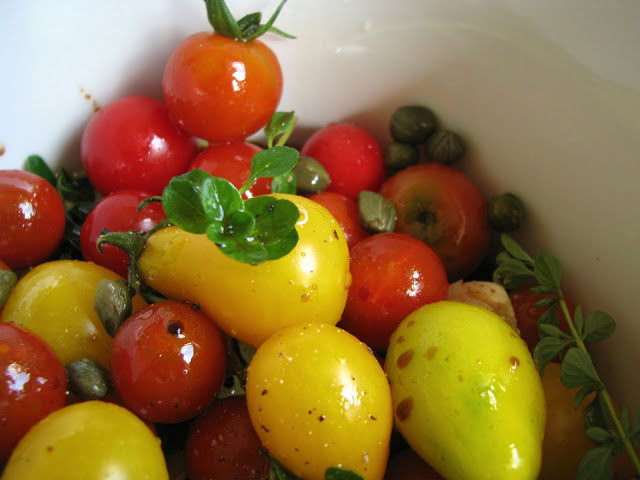 I threw this red quinoa & roasted cherry tomato dish together the other night, after I looked in the fridge and realised I had a bag of red quinoa that needed using up before we go. As I mentioned in my last post, our tomatoes are going crazy. Most of the larger ones have finished fruiting, but the cherry tomatoes are still climbing higher and higher up their stakes, sprouting out new fruit left, right and centre. Super simple to make, this dish is the prefect throw together I-have-no-time-to-think kinda meal. The earthy red quinoa soaks up all the lovely roasted tomato juices, while the fresh basil adds a lovely fresh hit as well as a vibrant burst of colour. You could also make the tomato topping in a frying-pan if you like, simply fry off the garlic and thyme in a little olive oil and add the tomatoes, capers and balsamic then cook until the tomatoes are just bursting.
Hei konā rā, goodbye from New Zealand, Perth here we come! Xx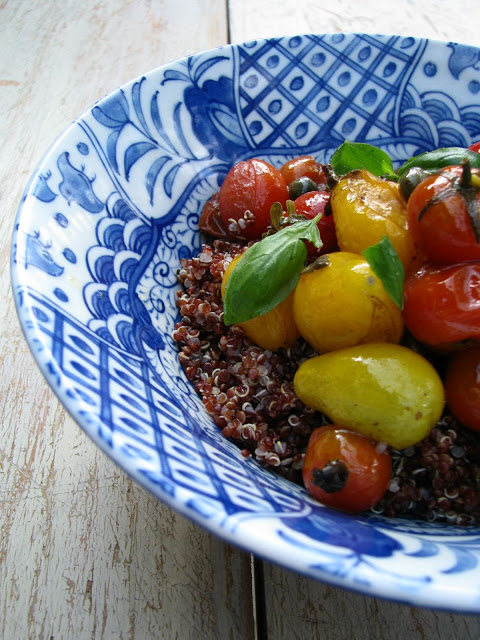 red quinoa with garlic & thyme roasted cherry tomato recipe
Of course you could also use regular quinoa for this recipe if that's what you have. Red wine vinegar would be lovely in place of the balsamic and a crumbling of feta cheese would be a perfect addition if you tolerate, just scatter over the top with the basil leaves when you're serving. Serves 2 as a main or 4-6 as a side.
2 cups cherry tomatoes (I used a mixture of regular red ones and yellow pear cherry tomatoes)
a few sprigs of fresh thyme
3 tablespoons extra virgin olive oil
1 tablespoon balsamic vinegar/red wine vinegar
3 teaspoons capers
4 cloves of garlic, thinly sliced or crushed
sea salt and freshly ground black pepper
fresh basil leaves to serve
Preheat oven to 200 C/400 F. Place cherry tomatoes into an oven-proof dish, scatter with thyme, pour over olive oil and vinegar, add capers and garlic, season well with salt and pepper and bake for 10-15 minutes until the skin of the tomatoes are begining to burst and the centre is lovely and soft. Remove from the oven and serve large spoonfuls of roasted cherry tomatoes over warm or room temperature red quinoa. Make sure you spoon over some of the lovely, flavoursome cooking juices too. Scatter a handful of fresh basil leaves over the top and serve.
*To cook quinoa; put 1 cup of water on to boil, rinse 1/2 cup quinoa well (to remove the saponin, a bitter protective coating) and drain. The easiest way to do this is to put the raw grain into a fine mesh sieve and rinse under running water, then set aside to drain while the waters coming up to the boil. When your waters boiling, add the rinsed quinoa, cover and turn down to a gentle simmer and cook for 10-12 mins until the grains become translucent and an unusual outer white ring shows. Remove from the heat and fluff up with a fork.
1/2 cup raw= 2 cups cooked quinoa.