photo credits Kelda Aikman
So, we have made is safely to Perth and it is only now, nearly 3 weeks on from our
surprise wedding
that I am able to catch my breath and do a write up on the gluten-free chocolate wedding cake I promised I would share.
The past few weeks have been a blur of packing, sorting, catch-ups and goodbyes, so I haven't been able to fully digest the fact that somewhere in the midst of that we managed to get married. To say we feel any different now that we are husband and wife would be stretching the truth a little (we have been together 8 years and have two kids already!), but god it's been fun teasing each other with "hello husband, hello wifey".
photo credits Evie Hall
Our wedding came as a surprise to all but 5 of our guests. My Mum and Dad weren't even aware of our plans, until that very morning for Mum and 2 minutes before the ceremony for Dad. I had even forgotten to tell Dad to dress up! But that's what I loved about the day the most. It was so casual; some people dress up, while others wore tee shirts and jandals. There was no build-up, no expectations, and no stress.
photo credits Kelda Aikman
photo credits Andre Ngapo
photo credits Kelda Aikman
People came, ate, drank, celebrated, talked, laughed, and shared. It was perfect.
photo credits Evie Hall
photo credits Evie Hall
I have made a few wedding cakes in my time, but attempting a gluten-free one was a first for me. I used my recipe for
flour less chocolate love cakes
which some of you may remember from my birthday post last year? It is the most intense, gooey, rich chocolate cake, and one that seems to get better and better with time, making it the perfect do-ahead cake. I baked mine on the Tuesday for our Saturday wedding, taking the stress out of the days leading up to our big day. The icing does have to be made and the cake iced on the day, so allow for this if you are making your own cake. It was while I was standing in our kitchen icing the cake, moments before heading out to get my hair done that my Mum decided to pop down from my Nana's next door. I had to let her in on the secret, which was a shame, but she was over the moon regardless.
To transport the cake to the venue I find placing them into a large cardboard box to be the easiest way to go. Then simply cut the box down the sides to expose the cake, rather than trying to lift the (heavy) cake out. Good luck! Xx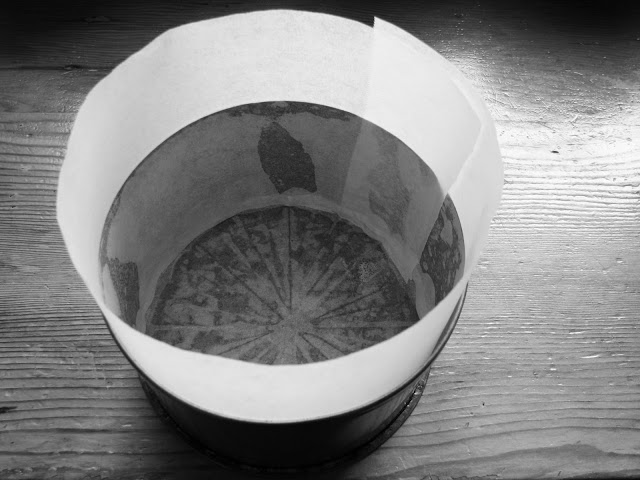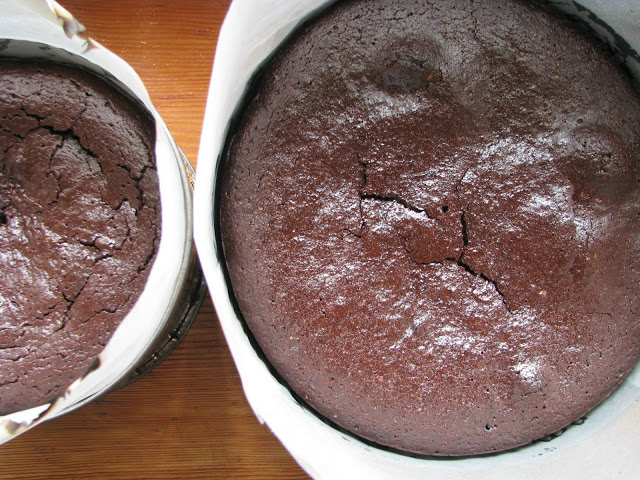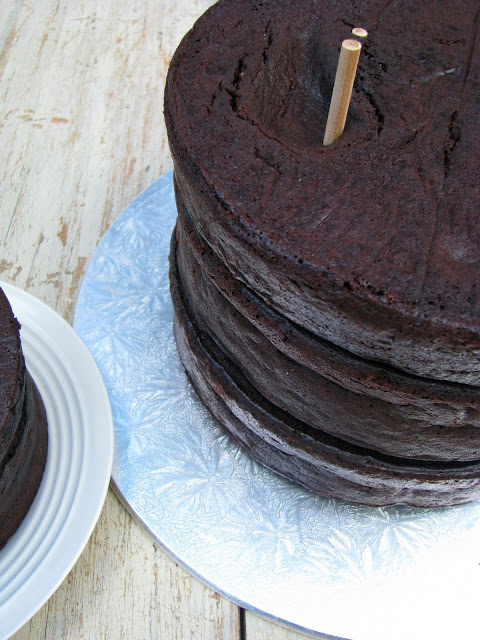 photo credits Kelda Aikman
photo credits Kelda Aikman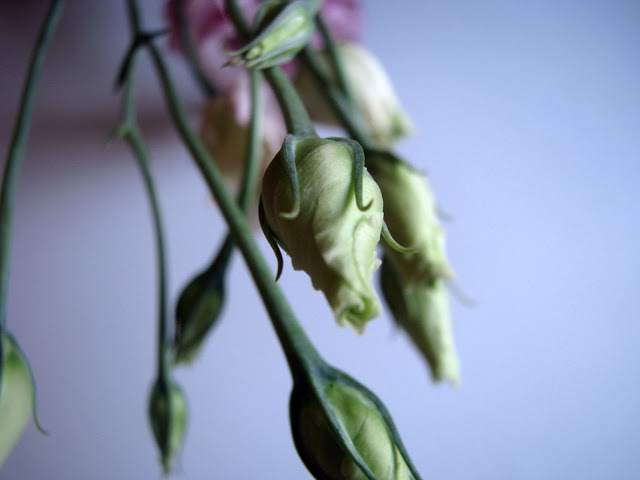 P.S My darling lemon thyme has been nominated for Babbles.com's top 100 mom food bloggers! Please click "like" if you would like to see me stay there. I am listed under my actual name, Emma Galloway. You'll find me on the first page. Many thanks all xx.
gluten-free chocolate wedding cake recipe
To make the column cake pictured above, you need to make 3x 22cm (9 in) round cakes for the base and 1x 16cm (6 in) round cake for the top, according to the instructions below. This was the first gluten-free wedding cake that I've ever attempted, so there was a little bit of trial and error involved. I was only going to make 2 round cakes for the base but at the last minute I decided I wasn't quite happy with the height. I then made one more slightly thinner cake to make up the height. This cake keeps well in the fridge for up to 1 week and can be frozen un-iced. Serves 50-60.
to make 2 x thicker 22cm (9in) cakes you will need for each one;
3/4 cup cocoa powder
3/4 cup hot water
2 1/4 cups brown sugar
330g butter
300g dark chocolate
2 1/4 cups almond meal (ground almonds)
9 eggs
to make 1 x thin 22cm (9 in) cake and 1 x 16cm (6 in) cake you will need for each one;
1/2 cup cocoa powder
1/2 cup hot water
1 1/2 cups brown sugar
220g butter
200g dark chocolate
1 1/2 cups almond meal
6 eggs
Preheat oven to 170 C/338 F. Grease cake tins and line the base with baking paper.
Put cocoa into a medium saucepan and slowly whisk in the hot water to form a smooth paste. Add sugar, butter and chocolate. Stir over low heat until melted and smooth. Remove from heat and set aside for 15 minutes to cool. Stir in the almond meal and eggs. Pour into tin and bake for about 60-70 minutes for the two deep 22cm cakes, 50 minutes for thinner 22cm (9 in) cake, and 1 hour 20 minutes for 16cm (6 in) cake or until cooked when tested with a skewer. Cool cake in the tin, then remove, cover and refrigerate until needed. They can all be frozen at his stage if you are planning ahead. Cool, wrap in baking paper then cling film and freeze flat (on a tray is good). Defrost over night on the bench.
meringue icing
1 1/4 cups caster sugar
1/3 cup (2 1/2 fl oz) water
6 egg whites
500g (1b) cold butter, chopped
1 teaspoon natural vanilla essence
Place the sugar and water in a small saucepan over low heat, and slowly bring to the boil without stirring. You can swirl the pan slightly, but stirring it can cause sugar crystals to form, which you don't want. Wash down any sugar crystals from the inside of the pan with a wet pastry brush. When the sugar is completely dissolved, increase the heat and bring to the boil. Boil until soft ball stage on a sugar (candy) thermometer (116 C/240 F). If you don't happen to have a sugar thermometer, simply drop a little syrup into a glass of cold water, and if it forms a soft sugary ball you're good to go.
Beat the egg whites with a electric hand mixer in a large bowl until firm peaks form. Continue beating and pour in the sugar syrup in a steady stream into the egg whites. Beat for 3 minutes or until the mixture stops steaming.
Continue beating and add the butter, a few cubes at a time, until its all incorporated. Beat for a further 15 minutes (the mixture will look curdled at first), then use a metal spoon to mix in the vanilla. Keep in a cool place (not in the fridge) until needed.
To assemble and ice the cake
Turn the 3 large 22cm (9 in) cakes upside down and stack one on top of the other on a 12 inch cake board. You may need to fiddle around with the cakes, turning them around until you feel the top is completely flat. Measure the total height of the column (it should be between 14.5-16 cm tall) and cut 4 pieces of dowel (I buy a metre of 1cm dowel from the hardware store and cut my own pieces) to this measurement. Insert the 4 dowel pieces in a square pattern on the top of the surface of the cake. Place a 6 inch cake board over the pieces of dowel, make sure it's central and then place the 16cm (6 in) cake on top.
To ice, spoon on a large dollop of icing first, then smooth out working from the top of the cake down. The icing doesn't need to be smooth, use even, sweeping motions. I find a small off-set palette knife to be the best tool for the job. If it's a hot day, chill the cakes before icing.
Unless you can decorate the cake just before the reception, use flowers that can stand with a snipped stem. Roses are the best, but if like us, your budget doesn't allow for them, try to find other hardy flowers like Lisianthus (which we used), frangipanis, or gardenias. Place the flowers on the cake up to two hours before.
Keep the decorated cake in a cool place until needed, but not in the fridge or cool room as the icing will set too hard.