So, as promised, here's a little bit of savoury goodness (amongst all the sweet!) to get you through the weekend. I came across this recipe in the
New Zealand Vegetable cookbook
. Some of the biggest names in NZ food writing;
Lorraine Jacobs
, Ginny Grant and Kathy Paterson, have teamed up to produce this gorgeous seasonal cookbook that is fast becoming my go-to vegetable cookbook.
Written along the same lines as the infamous River Cafe Cook Book Green
(which gets a mention in the bibliography) it is divided into four seasonal sections, each one dedicated to produce available at that time of year. And being the New Zealand vegetable cookbook it obviously uses vegetables that are abundant and available to us at the right time of the year! Yay! This was the one downfall that I found when reading the River Cafe Cook Book Green, that not many of the vegetables were available down under!

The rich, moody photography, by one of my favourite food photographers Aaron McLean, elevates this already lovely cookbook to something else altogether. My only qualm is that I wish more of the recipes were accompanied by a photo....but I'll get over it!
Their original recipe for this salad uses tinned Italian white beans, but I had some dried cannellini beans in the cupboard that needed using up before we move to Perth, so I went for them instead.
The flavours here are amazing, the perfect mix of spicy coriander (cilantro), fresh garlic from the garden, fragrant cumin and zesty lime. I didn't add it at the time, but I feel a little pinch of chilli flakes would make this dish even more special (to be honest, I try to add chilli to everything). This recipe is perfect for taking to a pot-luck or for making ahead of time, as it really does improve on sitting. I even ate the leftovers, straight from the fridge, with just a little extra lime juice squeezed over to freshen things up.
On a completely different note, our thoughts and prayers go out to all those affected in Far North Queensland, who have just been struck by cyclone Yasi. Australia has taken a serious hammering from Mother Nature lately, and I just hope there's been no loss of life this time round. -emm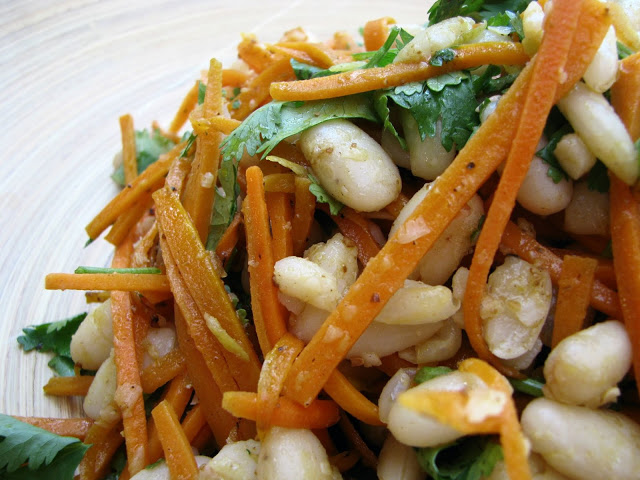 carrot, white bean and coriander salad recipe
I used dried cannellini beans because that's what I had at hand. If you prefer to use tinned like the original recipe. Simply use 2x 400g cans of cannellini beans, drained and rinsed well. To toast the cumin seeds, gently heat in a pan over medium heat, stirring until fragrant, 1-2 minutes. This recipe will test your knife skills, as you are after thin, uniform matchsticks. Use a mandolin if you have one, or even thin strips made using a speed peeler would work great. Serves 4 as a side or 2-3 as a main.
1 cup (180g) dried cannellini beans, soaked overnight in plenty of water
1 clove garlic, peeled and roughly chopped
1/2 teaspoon fine grain sea salt
1 teaspoon cumin seeds, lightly toasted and ground
the zest and juice of 1 lime, plus extra for squeezing
2 tablespoons extra virgin olive oil
1-2 teaspoons of vegetable/olive oil
6 medium carrots (500g), peeled and cut into thin matchsticks
sea salt and freshly ground black pepper
small handful of coriander (cilantro) leaves
Drain the soaking water off the beans. Cover with fresh water and cook over medium heat for 40-50 minutes or until soft, but not falling apart.
While the beans are cooking get your dressing sorted; crush the garlic and salt together either in a mortar and pestle or using the side of your knife to form a paste. Combine this garlic paste with the cumin, lime zest and juice and extra virgin olive oil.
Once the beans are cooked, drain and set aside briefly while you cook the carrots. Heat a frying pan over high heat then add the 1-2 teaspoons of vegetable oil, toss in the carrot sticks and cook over high heat, letting some char around the edges, until they start to soften a little. Immediately combine the hot bean and carrots with the dressing and set aside for an hour to marinate if you have the time. By adding the beans and carrots hot, they will soak up all that wonderful dressing. I served this at room temperature, but if you prefer re-heat over medium heat in a pan. Toss in a small handful of roughly torn coriander (cilantro) leaves and serve.
This recipe has been linked to: Gluten-free Wednesdays @ The Gluten-free homemaker