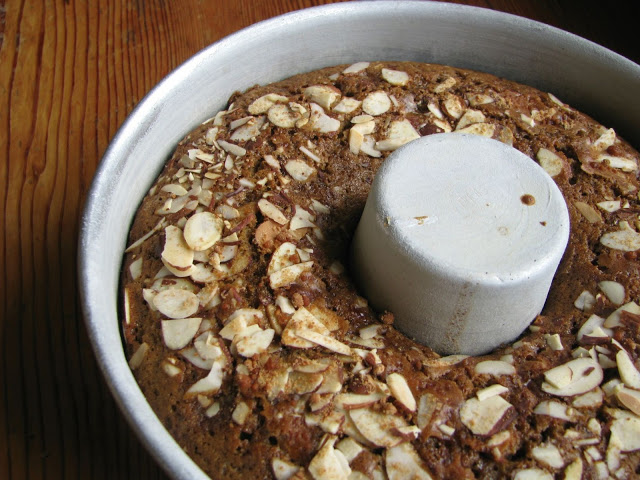 I had intended to post a few savory recipes after all the sweetness of late. But after reading a recent post on
101cookbooks
which features Heidi's recipe for
brown-butter spice cake,
I've scarcely been able to think of anything else. All weekend while we were over at mums, I was planning and thinking about which gluten-free flours I'd use to convert her whole-wheat brown-butter spice cake to gluten-free. What had me hooked right from the start was her unusual but amazing addition of garam masala as a spice. I'm usually pretty heavy handed with spices when I add them to cakes, so this had me intrigued.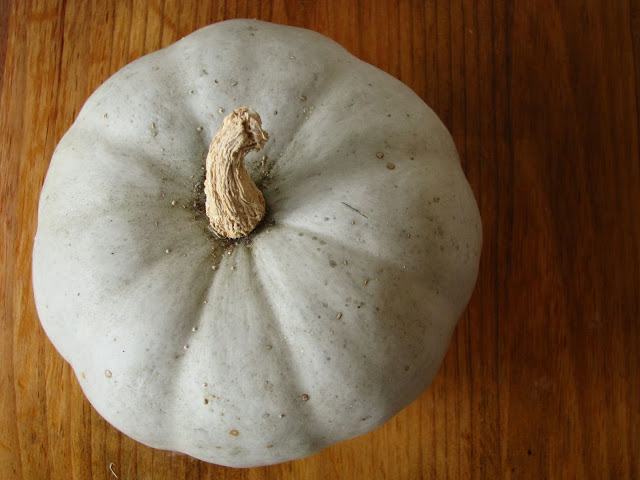 I decided to go for a brown-rice and quinoa flour mix, with a little potato starch to hold things together and give lightness. If you haven't yet tried quinoa flour, it is amazing. Yes, it has a strong flavour that may be off-putting to some. But paired with equally strong flavourings like the garam masala and also with the lovely sweetness of the roasted pumpkin puree, its grassiness is almost undetectable. It adds a beautiful light texture to baked goods, as well as much needed moisture in gluten-free baking. Like the quinoa grain, it's very high in complete protein, so not only do your cakes taste wonderful, they are nutritious too! I have a feeling this cake is going to become a firm favorite in our house.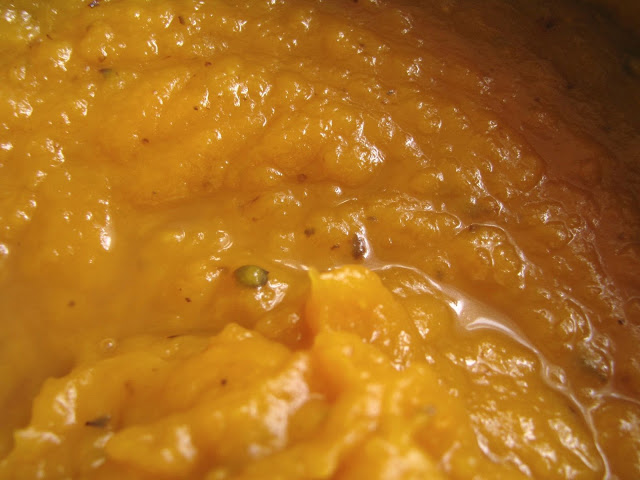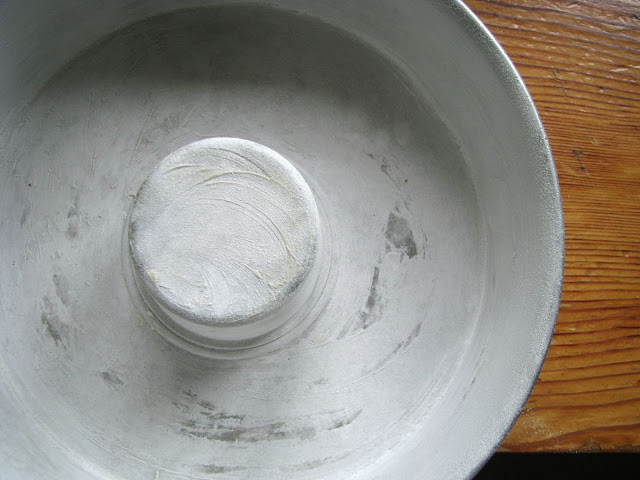 It's just the very beginning of pumpkin season here in New Zealand, and I know I'm jumping the gun a little on this autumn/winter flavoured cake. I tend to cook and eat with the seasons, but as we still have three homegrown crown pumpkins from last year that desperately need using up, I went for it anyway. Pumpkins are so easy to grow and if you're lucky, plants will just grow up out of your compost pile! That's what happened with ours this year, out of Brother Ben's compost pile he made back when I first started blogging, so they have had an extra good start to life. It's a pity we won't be around to eat the ones growing on the plants at the moment, but with Brother Ben renting our house while we are in Perth I know that they won't go to waste. And they'll be like payment for all the hard work Ben put into our compost pile in the first place 🙂 This one below is going to be a beauty.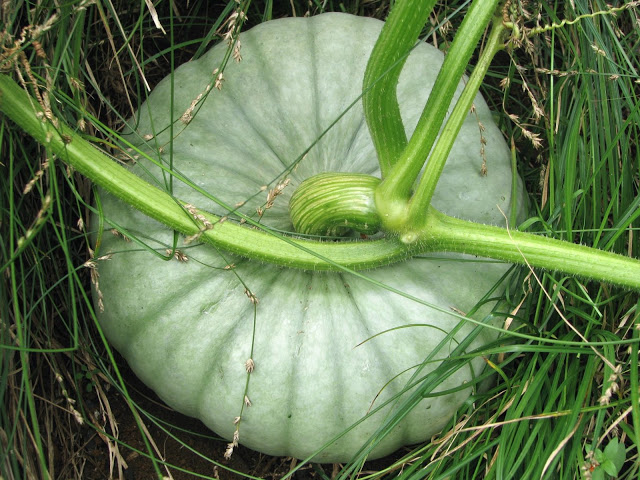 Lastly, I have the final piece of the exciting news I hinted about at the end of last year. For those of you who follow me via
my facebook page
and read the
Raglan Chronicles article
on my blog, you may already know this, but for those of you who don't… I am going to be making an appearance on New Zealand's
Good Morning show
! I'll be cooking a couple of recipes and chatting about my darling lemon thyme. So if you are around that day, check it out sometime between 9am-12pm, Monday 28th February, TV One.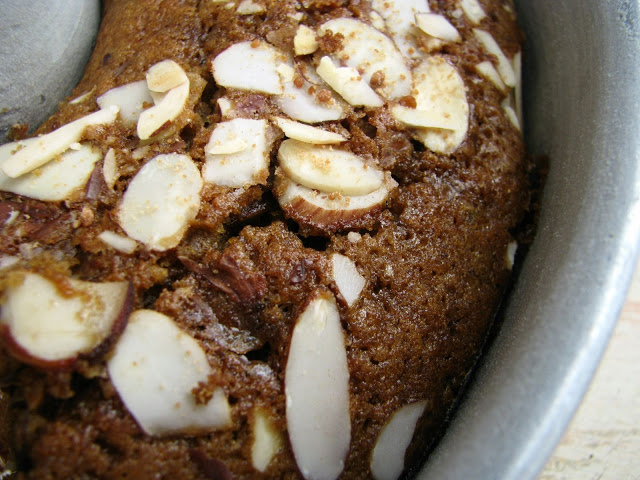 Gluten-free brown-butter spice cake recipe
The toasty brown butter really makes this cake, but if you avoid dairy strictly I'm sure you could substitute with melted dairy-free margarine. Don't worry about the browning bit, just add it melted. Heidi's original recipe called for toasted hazelnut oil, but here I have used coconut oil. Almond oil or olive oil would be fine too. I have used a little less sugar than the original, letting the natural sweetness of the roasted pumpkin do its thing and I used rice milk as we don't drink cows milk. But feel free to use cows if you tolerate, or soy milk. Makes 1x22cm/8 ½ inch ring tin.
115g (1/2 cup) butter, plus extra for greasing
1 tablespoon coconut oil
1/2 cup (60g) brown rice flour, plus extra for the cake tin
1/3 cup (40g) quinoa flour
1/4 cup (40g) potato starch (known as potato flour in NZ), or use tapioca flour
1 teaspoon baking soda
3/4 teaspoon ground cinnamon
1 teaspoon garam masala
a pinch of fine grain sea salt
3/4 cup (150g) light muscovado sugar or regular brown sugar, plus 1 ½ Tablespoons for the topping
2 large eggs
1/2 cup (130g) well-pureed roasted pumpkin*
1/4 cup (60ml) rice milk
1/3 cup (30g) lightly toasted sliced almonds
Melt the butter in a small pot over medium heat until it smells delicious and nutty, like shortbread biscuits. Between 8-10 minutes. Go slowly, and turn down if you notice the butter solids starting to colour too much or too quickly. Remove from the heat, add the coconut oil, give it all a little swirl and set aside to cool slightly while you prepare the rest of the cake ingredients.
Preheat the oven to 180 C/350 F. Butter and flour (use extra rice flour) a 22cm/8 ½ inch ring tin. Sift the brown rice flour, quinoa flour, potato starch, baking soda, cinnamon, garam masala and salt into a medium bowl. Add the sugar and using a whisk, thoroughly combine all the ingredients. Breaking any large lumps of sugar up as you go.
In a smaller bowl whisk the eggs, pumpkin puree and rice milk together, then add the cooled butter mixture. Combine with the dry ingredients and most of the sliced almonds. Mix to form a smooth batter. Pour into prepared cake tin. Sprinkle with 1 1/2 Tablespoons of sugar and remaining almonds. Bake for 35-40 minutes or until a skewer inserted into the centre comes out clean. Remove from oven and cool in the tin.
* To make the roasted pumpkin puree: Roast chunks of peeled and seeded pumpkin with a touch of vegetable oil at 190 C/375 F until cooked through. Puree with a stick blender until smooth.