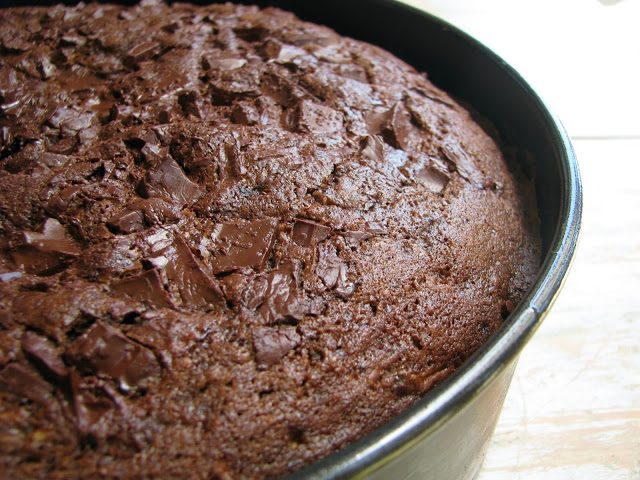 With Kye and I feeling much better, the butter was once again pulled out from the fridge this morning to soften for the much anticipated chocolate courgette cake. I swear, that container of chopped, weighed butter has been in and out of the fridge more times than I care to remember over the past week. Every time I would go to make the cake, I'd get side-tracked. A phone call from a friend wanting to catch up, or my blocked nose that prevented me from tasting anything for days. Then yesterday I thought right today's the day, but alas the yoghurt was still doing it's thing in the yoghurt maker. And I really didn't feel like venturing into town to buy some more. Never before have I tried so hard to get it together to make a cake, so with that kind of build up, this cake really had to be a good one!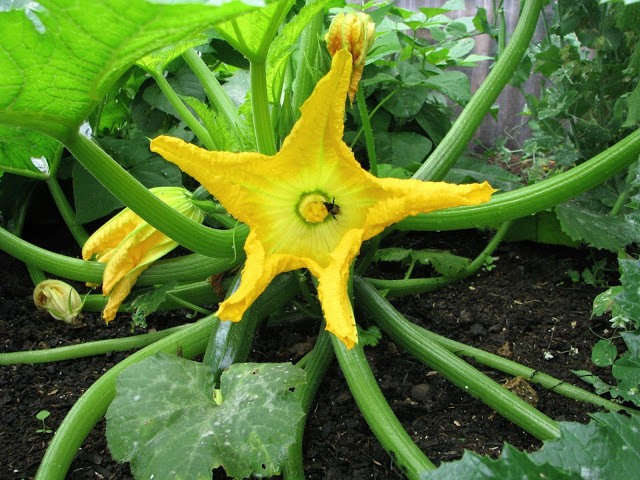 I first read about this cake in the New Zealand gardener "garden diary 2010". Christchurch gardener Andrea Hawkes had one of her favourite seasonal chocolate cake recipes featured in it with grated courgette. It sounded interesting and such a great way to use up what is always a ridiculously large crop. My sister made it last year and I vowed to convert it to gluten-free so I too could eat it. Here I have also cut the sugar content by a third, with no noticeable difference in flavour or texture, so now the cake could almost be called a health food… if it weren't for all that chocolate on top!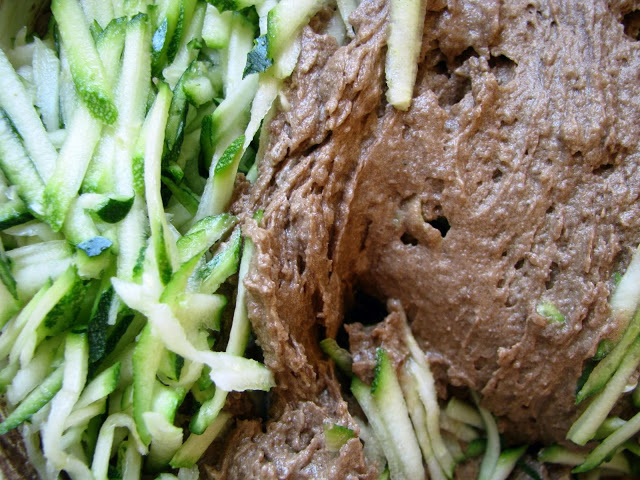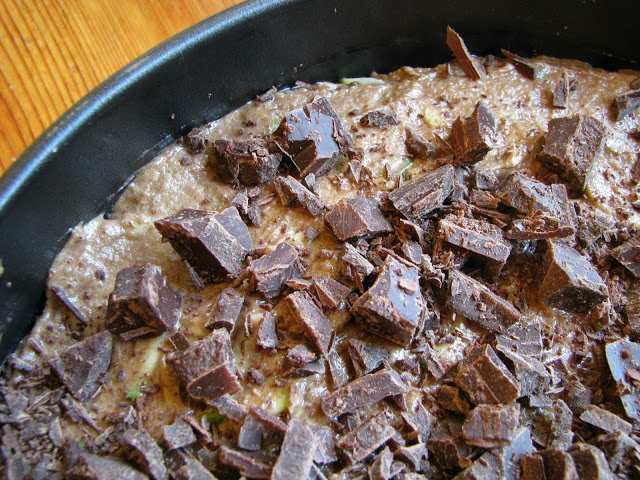 I've done away with the icing, but by all means ice it if you like. Also next time I make it I think I will fold the chocolate through the cake mixture prior to baking instead of sprinkling on top, leaving little nuggets of goodness to discover with every mouthful.
The texture of this cake is amazing. It's light, but moist and is flecked throughout with little green shreds of courgette, that will make for a great conversation starter. Serve with a little dollop of softly whipped cream or vanilla ice-cream. Perfect.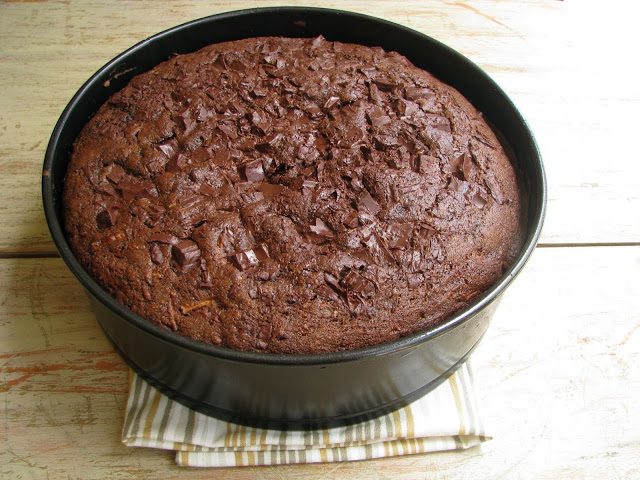 chocolate courgette cake recipe
This cake does contain butter and yoghurt as we now tolerate these. But if you are strictly dairy-free, try substituting dairy-free margarine and soy yoghurt. Also make sure your chocolate is dairy-free. (Most good quality dark chocolates are) If you eat wheat, you can simply use 2 1/2 cups plain wheat flour in place of the almond meal, brown rice and potato flours. Serves 12.


125g butter, softened
1 cup (200g) light muscovado sugar (or use soft brown sugar)
3 eggs
3/4 cup (75g) ground almonds (almond meal)
1 teaspoon natural vanilla essence
1/2 cup (120g) natural plain yoghurt
1 1/4 cup (150g) brown rice flour
1/2 cup (75g) potato starch (known as potato flour in NZ)
1/4 cup (40g) cocoa powder
2 teaspoons baking soda
1 teaspoon ground cinnamon
1 teaspoon mixed spice
1/4 teaspoon fine sea salt
3 cups (375g) grated courgette (zucchini)
100g dark chocolate, roughly chopped
Preheat oven to 170 C/ 338 F. Grease and line a 9 inch/22cm spring form cake tin.
Cream the butter and sugar until light and fluffy. Add eggs, one at a time beating well between additions. Add vanilla, yoghurt and ground almonds and mix well. Sift the dry ingredients and mix in with the grated courgette. Spoon into greased tin and sprinkle with the chopped chocolate. Bake for 45-50 minutes or until the centre feels firm and a skewer comes out clean. Cool in the tin for 10-15 minutes then transfer to a wire cooling rack to cool completely. Serve as is, or ice with chocolate icing.