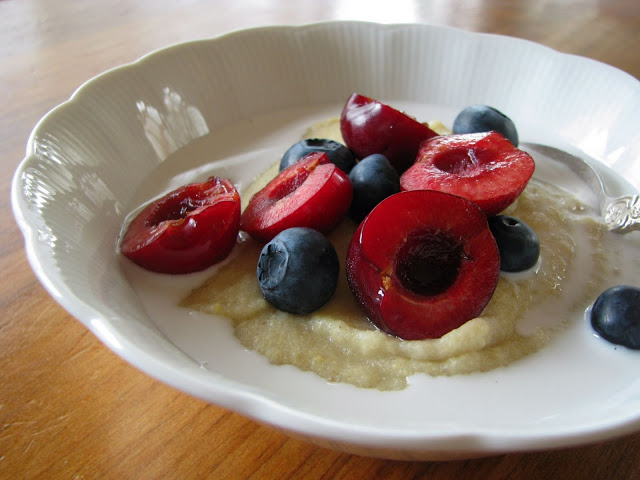 With Christmas all done and dusted for another year, it's now time for me to relax and begin to get my head around a whole month off kindy!!??! We had great plans of days spent at the beach, paddle boarding with Grandpa and lounging in the sun, but it seems the weather man has other ideas.
The weather over the past few weeks (minus the odd nice day hear and there) has been somewhat wintry to say the least. It's been raining most days and while the temperature has still been reasonably warm, there has been the odd morning when we've had to put the jumpers on and find socks, all packed away with our memories of winter. With this odd weather we have been turning to porridge once again to kick start our day. But this time topped with all the loveliness that summer brings.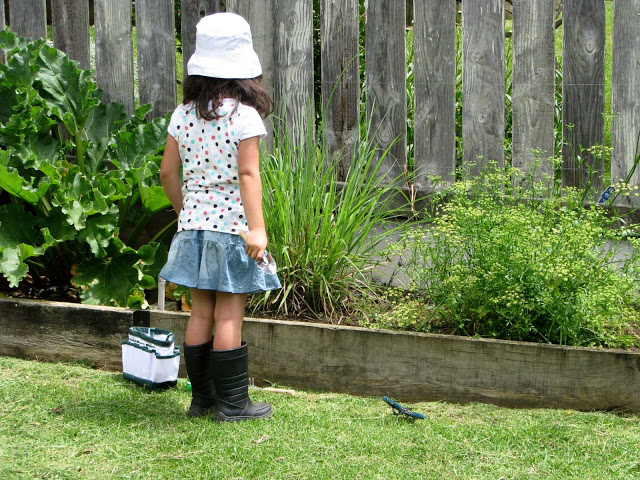 Before I get onto the porridge, how was every ones Christmas?
Ours was lovely. A long day for the kids, but really lovely all the same. The day started early with a phone call from Dad to say the Orca's were in the harbour, we missed them unfortunantly, but what a blessing to have them visit Raglan on Christmas day! Later on we had lunch at Dad's, where the kids got to trial their new life jackets on the paddle boards, ate lots of nice food including my brothers vegan haggis (yum), pavlova and brandy snaps. We pushed Kye to his absolute limits - skipping his day sleep - only to pay the price later on when we attempted to visit other family members, but all in all, a nice day was had.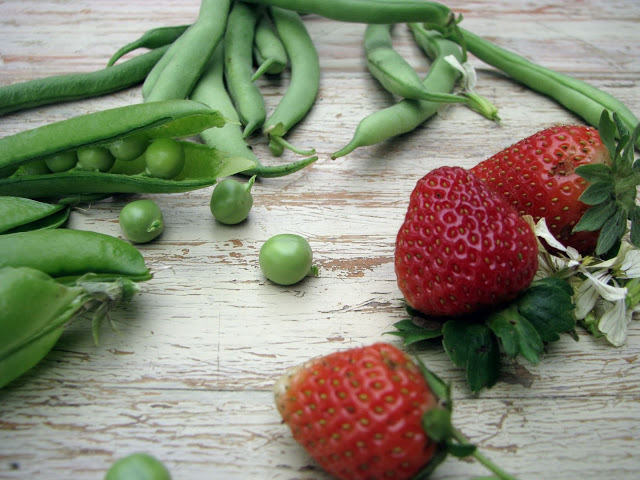 The vege garden is ticking along nicely. The broad beans have all but gone, eaten raw mostly, for an afternoon snack by the kids. They have made way for our new (and slightly tastier) afternoon tea treats. Fresh peas, beans and strawberries...
I am hanging out for our tomatoes to ripen. There would have been a few cherry tomatoes ready to eat, had the cheeky birds not got to them first! The courgette plant continues to provide, almost on a daily basis. But our poor blueberry bushes have struggled from day one. At last count, there were three measly berries growing on one of the bushes! Ah well, there's always next season eh?!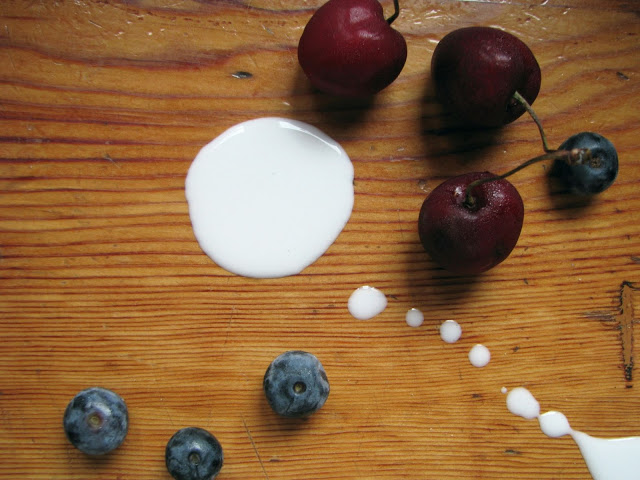 Right, back on topic.
Millet is one of my favourite ingredients since becoming (mostly) gluten-free. Not only can you use the actual grain in similar ways to couscous and the flour in baking, but you can also use the ground cereal to make sweet, nutty porridge's like this one. I like to add a little quinoa flakes to further enhance the nutritional value, but any other gluten-free grain could be used here. Brown rice cereal, would make things go a little further if you have many mouths to feed for example. I find the quinoa adds a lovely lightness to the millet, resulting in a soft textured, smooth porridge. While the coconut cream works beautifully to temper the somewhat assertive flavour of the quinoa.
I urge you to use this recipe as a jumping off point to your own porridge, top with whatever berry is available. Raspberries would have been my first choice with the coconut cream, had they not been so over priced and manky at the store the other day! Frozen berries would be fine also. Or you could flag the berries altogether, add a little chopped banana to the porridge when you are cooking it, along with a little dessicated coconut and chopped dates or raisins to sweeten. Yum.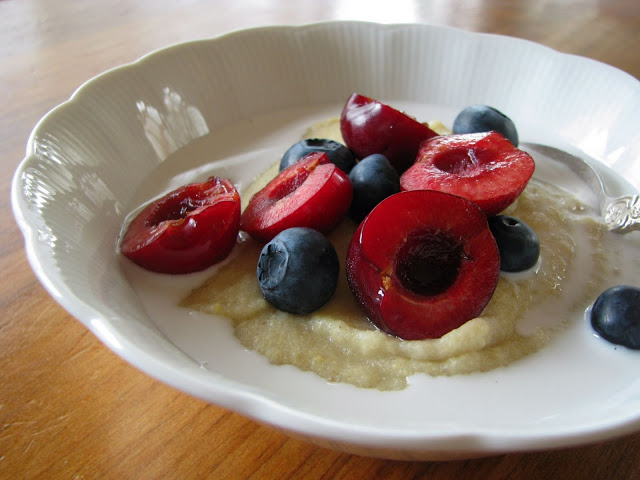 millet & quinoa porridge with coconut cream recipe
This recipe is gluten and dairy-free. And vegan if you use agave or sugar to sweeten. You can use any milk you like in the actual porridge; rice, soy, almond, cow. I used quinoa flakes but you could also use quinoa cereal (coarsely ground quinoa). Serves 2.
1/2 cup millet cereal
1/4 cup quinoa flakes
pinch sea salt
1 cup water (filtered is best)
3/4-1 cup rice milk or alternative
1-2 tsp honey (or you could use agave/sugar or chopped dates to make it vegan) to taste
fresh blueberries and cherries (pitted) to serve
coconut cream, to serve
Place millet cereal, quinoa flakes, a pinch of sea salt, water and rice milk in a small saucepan. Bring to the boil, stirring. Then reduce to a simmer and cook 4-5 minutes. Adding more rice milk or water if needed to reach a lovely soft porridge consistency. Remove from the heat and stir in the honey (or alternative) to taste. Spoon into plates, top with blueberries, cherries and a generous drizzle of coconut cream.