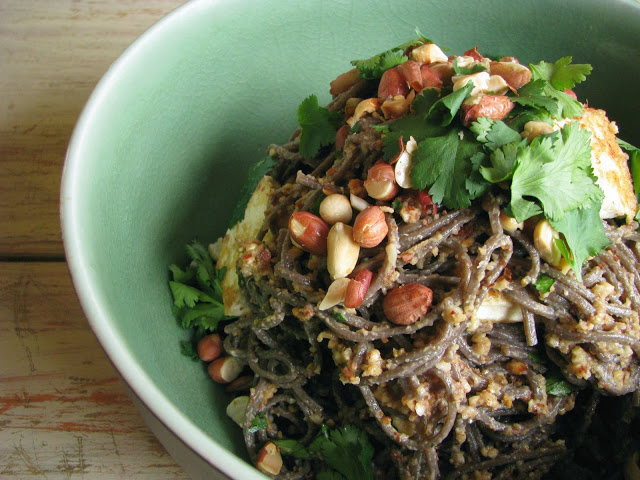 The kids and I are finally in our last few days of eating wheat and have just returned home from a weekend at mum's place in Pukehina, with my two younger brothers. I'll post a few pictures from our weekend away once I've caught up on some sleep and unpacked our bags. But for now I though I'd share this soba noodle salad recipe I made last week, flavoured with peanuts, ginger, garlic and coriander.
It's been a long month of eating wheat that's for sure, and while I did struggle in the first weeks getting my head around the whole idea of eating wheat, the kids and I have more than made up for it in these last weeks. I went all out on my last food shopping trip to Hamilton, buying ginger kisses (I know, something I probably shouldn't admit too, but I've always loved them! I am vowing to come up with my own gluten-free version), crumpets, soba noodles, and Vogels bread. Yes I still feel bleh, tired and grumpy, but I figured if this was to be my last taste of wheat, then I'd better make it a good one!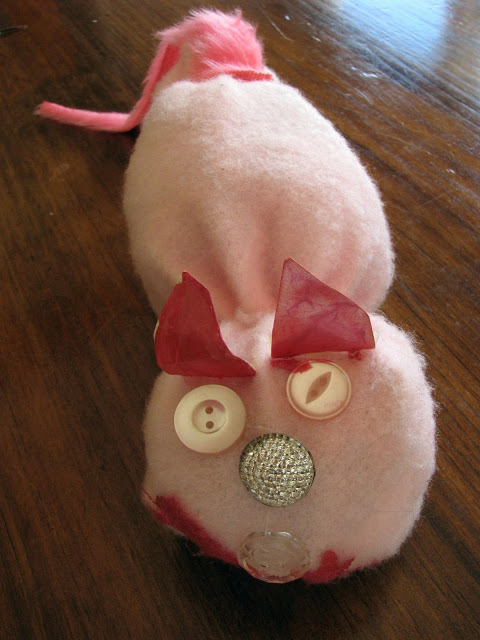 Ada has coped better than I had thought, she is more tired than usual, a little more on edge, but nothing as major as I had feared. Kye actually doesn't seem to be affected at all, so maybe, just maybe he has out grown his gluten intolerance? I guess the tests will tell. Totally unrelated to anything else in this post, but Ada came home from kindy the other week with this lovely little handmade cat I just had to share. How cute is that?! It quickly became her new best friend, going for walks with her and sleeping in bed at night.
Now, If you like satay you will more than likely love this salad. All the satay sauce flavours are there, ginger, garlic and coriander forming the base, along with the ground peanuts. There's salty from the tamari, sweetness from the coconut cream and a nice crunch from the roughly chopped peanuts. I used regular soba noodles which, in case you were not aware are actually made out of 90-95% wheat flour! You can buy 100% buckwheat soba noodles that are gluten-free, from good health food stores, just be prepared to pay a lot more than you would for regular.
I know this amount of coconut cream is somewhat annoying, as you are then left with most of the can unused. Do as we do and pour leftovers over your porridge in the morning or add to smoothies for a lovely tropical flavour. It can also be frozen in ice cube trays, then transferred to plastic bags for later use.
Here's a past post on Pukehina and mums place if your interested, also here's my post from when we first started eating wheat to get tested for Coeliac disease.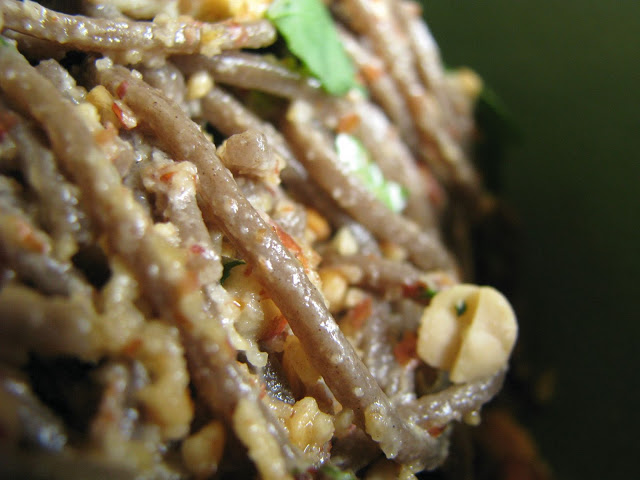 peanut, tofu and coriander soba noodle salad recipe
This recipe is dairy-free, vegan and vegetarian. By using 100% buckwheat soba noodles it is also gluten-free. To roast the peanuts, spread out onto a tray and cook in a preheated oven at 180 C/350 F for 10-12 minutes until the skins are crisp and the centre is golden. A light olive/ricebran oil can be used in place of the peanut oil if you don't have any. I didn't add any chilli to my original recipe, because the kids were eating it too. But if I were making it for myself I would defiantely add the finely diced red chilli, as suggested below. Up to you really. Serves 6
300g (10.5oz) dried soba noodles (check they are gluten-free)
1 1/4 cups peanuts, roasted
3 Tbsp chopped coriander (cilantro)
275g tofu, sliced
a little vegetable oil to shallow fry (I use ricebran)
coriander leaves, extra to garnish
3cm piece of fresh ginger, peeled and finely grated
4 cloves garlic, crushed
1 red chilli, finely chopped (optional)
4 Tbsp tamari (gluten-free)
3 Tbsp peanut oil
1/4 cup coconut cream
Bring a large pot of water to the boil. Put soba in and cook 4-5 minutes. Pour into a colander/sieve to drain and run under cold water to stop the cooking process. Leave in the colander/sieve to drain water fully. (Tip: if not using immediately, pour a little oil over noodles and mix to coat. This ensures the noodles stay separate).
Cook tofu in a frying pan over medium heat, using a little extra vegetable oil until golden on both sides.
Combine all the dressing ingredients in a glass jar or bowl and shake/mix to combine.
Finely grind 1 cup of the toasted peanuts either in a coffee/spice grinder or food processor. Roughly chop the remaining 1/4 cup with a chefs knife.
Put noodles, ground peanuts, chopped coriander and tofu into a bowl. Pour over the dressing and toss to combine. Transfer to a serving bowl, scatter with chopped peanuts and extra coriander leaves and serve. Enjoy!