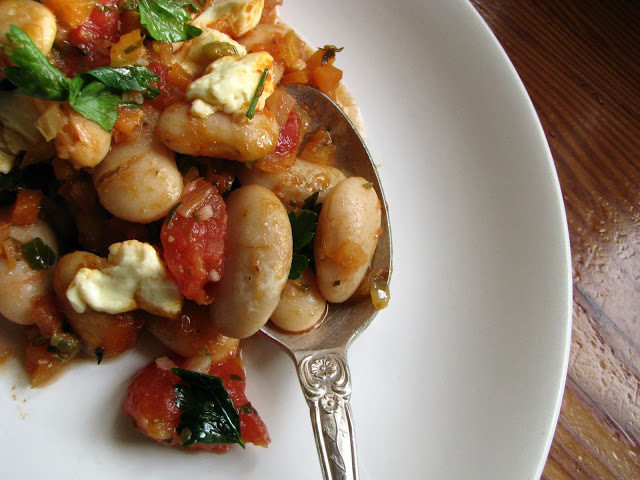 As a teenager my friends and I were somewhat addicted to baked beans. Wattie's baked beans that is. We would try to out do each other, each trying to prove just how much we loved the sweet and salty canned variety. One friend even went so far as to cover her art folder with old baked bean labels! We all thought that was pretty cool.
As I got older however, I began to find them less and less appealing. I prefer to make my own these days, and while you can by all means soak and cook your own butter beans, using the tinned variety speeds things up and is a godsend on nights when you find yourself caught out, wondering what to cook at 5pm.
The pairing of tomato, feta and garlic, with plenty of fresh herbs works just as well for breakfast as it does for dinner. At breakfast time I like to serve the beans hot and piled high on thickly buttered toast, a poached egg added for a special Sunday feast. At dinner, you can either serve on brown rice or as is, with a green salad and bread to mop up the juices.
This recipe makes more than enough for our dinner with a little leftover for the following day. Simply store in the fridge overnight and gently reheat in a pan. Yum.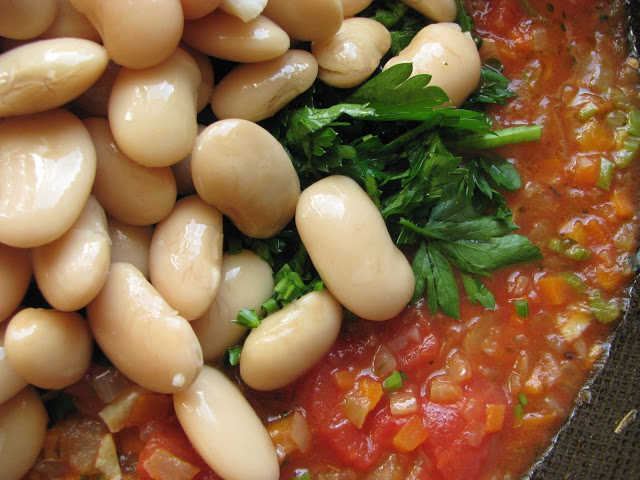 baked butter beans with tomato and feta recipe
This recipe is just as scrumptious without the feta, making it dairy-free and vegan. If you like the salty hit that you would otherwise get from the feta, try replacing it with a small handful of chopped olives.
If you prefer to use dried butter beans, soak 400g overnight in cold water. Drain and rinse, then cook in plenty of cold water for 30-40 minutes until just tender. Do not overcook. Drain and add to recipe when required. Cannellini beans would be a great alternative to butter beans.
Serves 4-6
1/4 cup (60ml) olive oil
1 large onion (approx. 250g)
1 celery stick, thinly sliced
1 large carrot, finely diced
3 cloves garlic, thinly sliced
1 tsp dried oregano
1 tsp fresh thyme, finely chopped
400g tin whole peeled tomatoes in juice
2 Tbsp (1 sachet) tomato paste dissolved in 3/4 cup (180ml) hot water
1 tsp raw sugar
2 x 390g tins of butter beans in brine, drained, rinsed and drained again
3 Tbsp flat leaf parsley, chopped roughly + extra for garnish (optional)
sea salt and freshly ground black pepper
50g feta, crumbled
Preheat oven to 180 C/350 F. Heat the oil in a large saucepan over medium heat. Add the onion, celery, carrot and garlic and saute until softened and slightly golden. Add the oregano and thyme and cook for a further minute. Pour in the tin of tomatoes including the juice and using your wooden spoon, slightly crush and break up the tomatoes into rough chunks. Cook for 10 minutes.
Pour in combined tomato paste/water and add sugar, drained butter beans and chopped parsley. Season with plenty of sea salt and black pepper. Give it all a great big stir to thoroughly combine. Pour beans into a ovenproof dish (i.e Pyrex) scatter over feta and bake for 30 minutes, adding more water if they are drying out.
Serve sprinkled with more chopped flat leaf parsley if you like and eat on brown rice, toasted bread or with a salad. Enjoy!