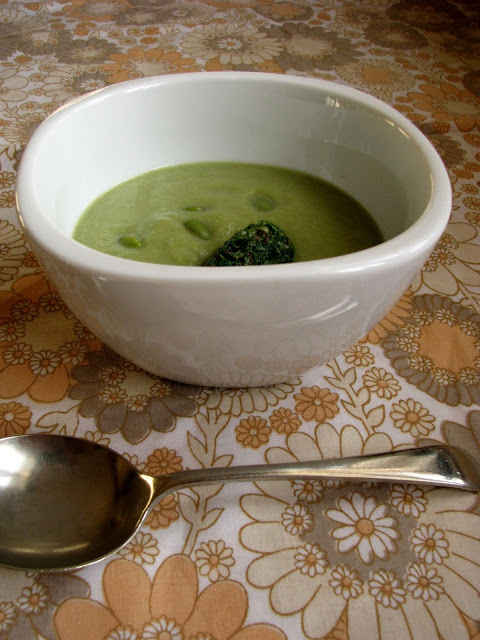 I have been waiting for what feels like months to try this recipe for asparagus and edamame soup from Jane Lawson's book Yoshoku: Japanese food western style.
I've always been a fan of Asian food, so naturally this book appealed and while "fusion" food has gotten a bad name for itself over the years, done correctly with a deep understanding of both eastern and western flavours the end results can be both exciting and tasty!
Edamame are the immature green beans from the soybean plant if you are not familiar with the name. More commonly seen as a bar snack throughout Japan, they are also a lovely addition to soups, stews and salads. They are becoming more and more available in New Zealand and can be found frozen in most Asian supermarkets and some mainstream ones too. You can buy them in two forms, either pre-cooked whole edamame which you then just need to steam or lightly boil in salted water/stock for a few minutes before eating straight from the shell or pre-cooked shelled edamame sold as "frozen soybean meat". While I do tend to buy the soybean meat most often, there is something seriously pleasing about sitting down to a bowlful of steamed edamame, popping the beans out as you go.

A few years back growing edamame yourself came into vogue and while we haven't tried growing them yet, I'd like to think we will some day soon. I assume they are just as easy to grow as broad beans (fava) and they pack a nice little vitamin hit being high in protein, vitamins A, B and C and iron to name but a few.
Adapted from Yoshoku: Japanese Food Western Style by Jane Lawson .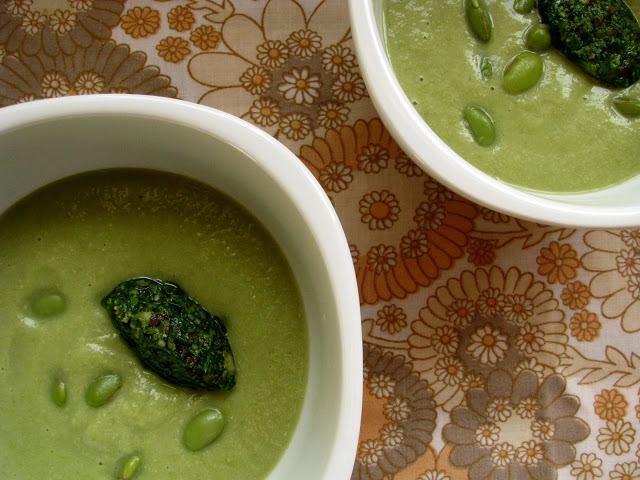 Asparagus and Edamame soup with rocket pesto recipe
I have adapted Jane's recipe by using homemade kombu stock in place of the dashi granules, substituting minzuna for rocket in the pesto and omitting the parmesan cheese to make it dairy free. If you don't have kombu or can't find it, use a small handful of any dried seaweed. I have used the edamame "meat" (shelled beans). But if you wanted to use the whole beans you will need 650g (1lb 70z), bring to the boil in a pot of water and cook for 2-3 minutes before using. Mirin, kombu and frozen edamame can be found at your local Asian grocery store. Serves 4
1 litre water
1 piece of kombu
2 Tbsp vegetable oil
1 bay leaf
1 onion, chopped finely
1 celery stalk, chopped finely
2 medium potatoes (250g/9oz) ( I use agria), peeled and cut into 1cm dice
2 Tbsp mirin
2 cups (200g/7oz) shelled edamame beans
1 bunch (250g/9oz) asparagus, chopped
minzuna pesto
2 handfuls rocket (arugula) leaves
1 handful flat-leaf parsley, chopped
1/4 cup (40g/1 1/2oz) toasted whole almonds, chopped
1/4 tsp finely chopped lemon zest
1 garlic clove, chopped
1/4 tsp sea salt
1/3 cup (25g/1oz) olive oil
Bring the 1 litre of water and kombu to the boil. Simmer for 5 minutes, then remove from heat.
To make to pesto, place all ingredients into a blender and process until smooth.
Heat the oil in a large saucepan over medium heat. Add the onion, bay leaf and celery and cook gently until soft but not brown (about 5-6 minutes). Add the potato and cook for another minute before adding the mirin. Increase the heat, strain the kombu stock into the saucepan (discarding the kombu) and bring to the boil. Simmer until the potato is cooked. Add the edamame and asparagus and cook for a further 5 minutes until everything is soft and cooked. Remove from the heat, pick out the bay leaf and discard. Using a spoon, fish out about 4 Tbsp of edamame to use as garnish if you like.
Leave the mixture to cool for 5 minutes before blitzing in a blender until smooth. Pass the soup through a fine mesh sieve by pouring in small amounts and working the soup through with the back of a ladle or spoon. Scrap the underside every now and then. Season to taste with salt and gently reheat in a clean pot before serving.
To serve, ladle soup into bowls, top with a spoonful of pesto and a sprinkle of the reserved edamame beans.
Enjoy!