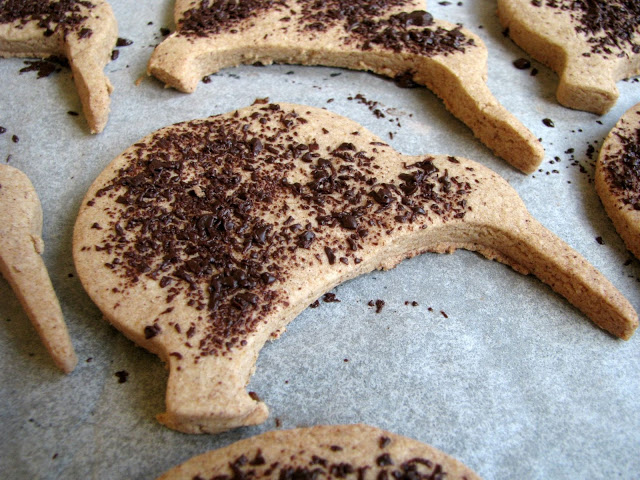 Mesquite flour is something I first read about in Heidi's cookbook Super Natural Cooking
. Thinking it was something I would never get my hands onto here in New Zealand, I put her recipe for Mesquite Chocolate Chip Cookies to the back of my mind while letting out a long sad sigh. So imagine my absolute joy and disbelief when Heidi then offered to send me some from the States a few months ago!! It arrived in a small parcel and even through the packaging I could smell its sweet chocolatey cinnamon aroma. Once opened and tasted, right there on the spot with a wet finger dipped in, I also got the little smoky hint that Heidi talks about in her book. On thinking about it more, especially after tasting it in these cookies I also get little bursts of carob in flavour but without the bitterness.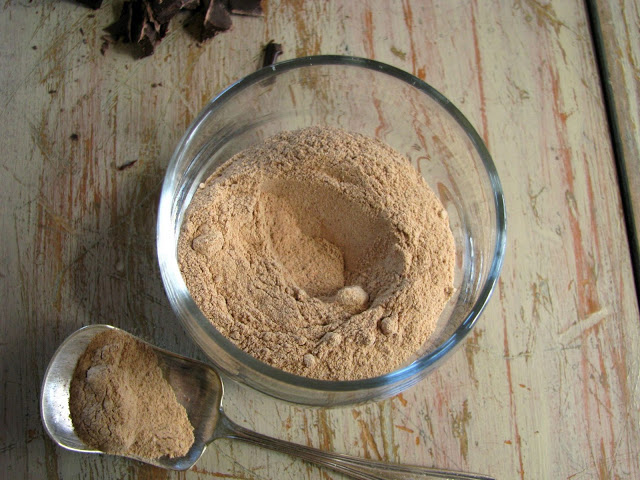 Made from the ground seed pods of the Mesquite tree it is naturally gluten-free, is high in protein, magnesium, potassium and fibre and has been labeled a low-glycemic super food. A traditional food of the indigenous American Indians, they once relied heavily on mesquite pods as an important food source. Now if you are trying to track down Mesquite flour in New Zealand, I have recently read on Joe's blog that it can be found at selected health food stores. Possibly just in the major cities of Auckland and Wellington...and while it is super expensive, selling for around $11 Australian for 250g , do try and track it down, you wont be disappointed. A little goes a long way and you really don't require a lot to get the amazing flavour. For those of you in Australia, a fellow foodie and one of my most avid readers suggests looking up http://lovingearth.net and also thinks they may stock their products in NZ. (Thanks KateP!)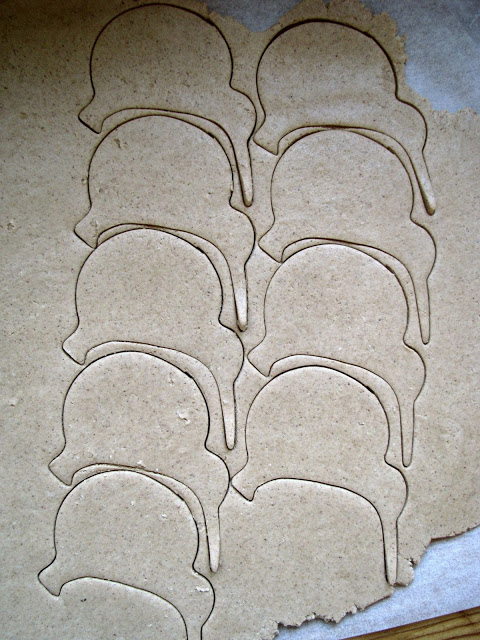 I have been trying to come up with a recipe of my own that uses Mesquite flour for some time now. Feeling a little precious about this exotic flour has meant that it's sat in a jar in my pantry for way too long. So when I recently purchased an adorable kiwi cookie cutter I just knew it had to be used to make Mesquite flour cookies. The chocolate shavings were an after thought that then gave me the perfect excuse to name them speckled kiwi mesquite cookies.
If you don't happen to have a kiwi cookie cutter (I can't say anyone other than a patriotic New Zealander would probably think to buy one!) just use whatever you have available and adjust the cooking time accordingly. Or simply roll the mixture into balls, flatten and sprinkle with chocolate.
These cookies were way to special to keep all to ourselves, so once cooled, I popped a few into a couple of paper bags and the kids and I went delivering! First stop was my Nana and Grandads next door, where they graciously accepted them saying how nice they would be with their afternoon cuppa. Then it was over to their neighbours. Gillian and Wayne have the greatest vegetable garden which is exactly where we found them. Being the lovely people they are, this healthy home-grown pak choy below is what we came home with!!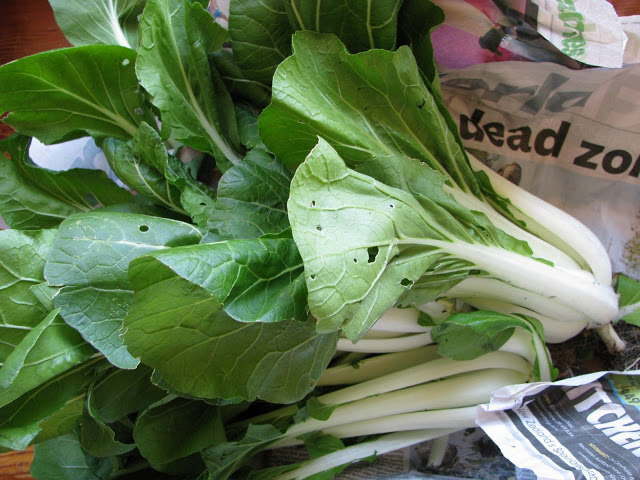 It was the perfect accompaniment to my miso roasted salmon with jasmine rice planned for dinner. I don't usually follow a recipe for simple stir-fried greens like this, but thinking a few of you may be interested in the recipe I've included it in today's post also. I love vege stir-frys, and basically lived off them pre-children when arriving home tired, and unmotivated to cook dinner after a long day cooking at work. They are so quick to throw together, full of flavour and super nutritious. Our stock standard dinner these days seems to be rice, a protein of some sort and vegetables either in the form of a stir-fry or a salad. Simple, fast and both the kids and adults can enjoy it! If I were making this just for myself I would add a sliced chilli or a sprinkle of chilli flakes, but with the kids and a chilli hating Si eating it I went for super simple flavours. Freshly grated ginger and a handful of coriander (cilantro) leaves would also be my pick if I were eating solo. Use whatever greens are in season. I can't tell you how excited we are in this here family that asparagus season has begun!! More Asparagus recipes coming soon...........
Special thank you to Heidi for the lovely Mesquite flour, and to Gillian and Wayne for the beautiful Pak Choy! Xxx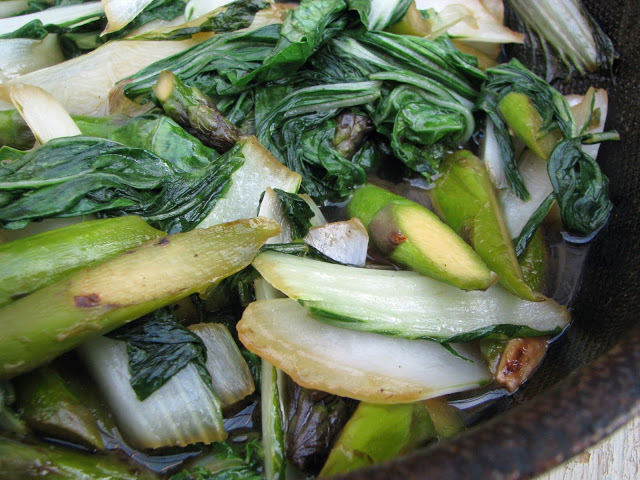 speckled kiwi mesquite cookie recipe
If you can't find Mesquite flour, simply use an extra 75g of cornstarch (cornflour to us New Zealanders), the flavour won't be anything like ones made with Mesquite but I'm sure they'd still be lovely. Also if you eat wheat you can always replace the gluten-free flours with 225g of regular flour. I used Whittaker's dark cacao chocolate, which is dairy-free.
Makes 24-26 kiwis.
200 g dairy-free margarine ( or soft butter if you tolerate)
3/4 cup (90g) pure icing (powdered) sugar
1 tsp pure vanilla extract
1/2 cup + 1 Tbsp (75g) mesquite flour
1 1/4 cups (125g) white rice flour
1/2 cup (50g) tapioca flour
1/2 cup (50g) gluten-free cornstarch (known as cornflour in NZ)
pinch of sea salt
1/2 tsp gluten-free baking powder
40 g dairy-free dark chocolate, chilled
Cream the margarine and icing sugar in a medium bowl until light and fluffy. Beat in the vanilla extract. Sift over the combined flours, baking powder and salt. Mix with a wooden spoon or as I do, with your hands to form a stiff dough. Shape into a flat disk on a lightly floured bench, cover and chill for 15-20 minutes. Pre-heat oven to 160 C/320 F. Grate the chocolate and set aside. Roll out dough between two sheets of baking/parchment paper to about 6mm thick. Stamp out shapes. Carefully transfer cookies to a greased or lined tray. Bake for 12-15 minutes or until slightly golden around the edges. Leave cookies a few minutes on tray before transferring to a cooling rack. Store airtight for up to 3-4 days, although I think they are at their best the day of baking. Enjoy!
Pak choy and asparagus stir-fry recipe
Like I mentioned above, this is my basic stir-fry. Add any sort of vegetable you have at hand, as well as grilled tofu. Bump up the flavour a notch by adding sliced chilli, some grated ginger and a sprinkle of fresh coriander (cilantro). Shao hsing is available at any Asian Grocery store. Dry sherry can be used in its place. Use wheat-free tamari in place of soy sauce to make gluten-free. Serves 4-6 as a side.
2 large heads of Pak choy or any other Asian greens
1-2 Tbsp vegetable oil (I use Ricebran)
3 cloves garlic, sliced roughly
10-12 spears of asparagus, tips snapped off and discarded, stems sliced
2 Tbsp Shao hsing cooking wine
1-2 Tbsp soy sauce
1 tsp sesame oil
1/2 tsp sugar
Freshly ground black pepper
Wash pak choy well. Slice off the bottom and separate the leaves. Wash again if needed. Roughly slice the stems and leaves, keeping them separate. Heat oil in a large wok or frying pan. Add the garlic, toss for a few seconds before adding the pak choy stems and asparagus. Stir-fry for 1-2 minutes until starting to colour and soften. Add pak choy leaves, tossing to combine. Add Shao hsing, soy sauce/tamari, sesame oil and sugar. Continue to cook until the leaves have wilted, and the vegetables are tender but still firm to the bite. Season with black pepper and serve.