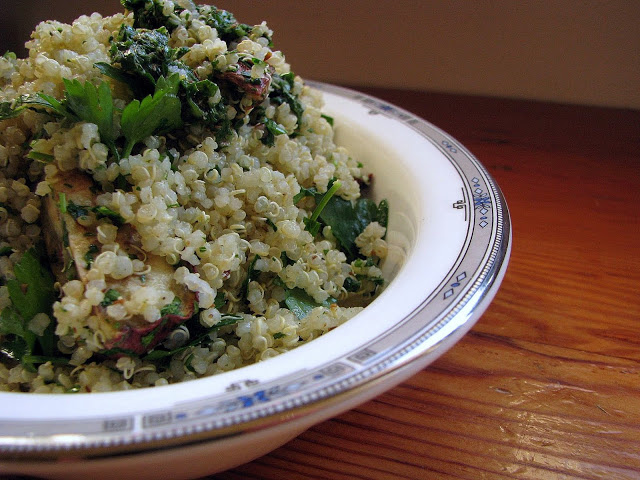 Quinoa, my friend. We go a long way back, you were my Savior when I couldn't eat anything else! For months on end I cooked you up, along with plain roasted root vegetables and ate you, over and over again. Thank you for your sustenance. But now it's time to add a wee bit more flavour and to truly start re-appreciating your brilliance!
Urged on by a good friend to post some quinoa recipes I have come up with this lovely wee recipe. Chimichurri is like a Argentinian salsa verde, it's hot, sour and salty. Just perfect to go with earthy quinoa and golden roasted Kumara. Kumara is one of New Zealand's most well-loved vegetables, known as sweet potato to the rest of the world. I used the standard red Kumara's for this recipe, I love their smooth creamy chestnutty flavour and texture, but use which ever ones are available to you. I know that in Australia the orange and gold ones are more common.
The chimichurri sauce is the key to this dish, it adds so much flavour that even those not accustomed to the Quinoa flavour will be addicted. If you haven't tried Quinoa (pronounced "keen-wa") you really should. It's the most amazing grain hence it's "supergrain" status, and is so important for gluten-free, vegetarian and vegans as it is a complete protein (usually only found in meat). It contains all eight essential amino acids and is an excellent source of calcium, potassium and zinc as well as iron, magnesium and B vitamins.
Some may think Quinoa is a bit to expensive to buy, but one 500 g bag lasts a long time as 1 cup of grain=4 cups of cooked quinoa! I always cook at least 1 cup at a time and I just keep the leftovers in the fridge for a few days adding it to salads, soups or using it in place of rice. Both my kids love it as a snack, simply dressed in a cider vinegar vinaigrette. You can also make lovely gluten-free porridge out of it, pre-cooked Quinoa, milk (soy, rice, cow) and sweetener (honey, maple, agave). For Wendy xxx




quinoa with roast kumara & chimichurri recipe
This recipe is gluten-free, dairy-free, vegetarian and vegan. Lemons could be used in place of the lime juice at a pinch, but do try to get your hands on limes. Pre-ground cumin could also be used in place of the whole seeds, if you are pushed for time, or only have ground, but make sure its fresh. Get to know your chillies, I only used 3 slices of green chilli as mine are super firey and this was almost too much. This can be served warm, at room temperature or even cold the next day. Serves 2 as a main meal or 4-6 as a side dish.
2 cups cooked quinoa (see below)
2 medium-sized kumara (sweet potato)
olive oil
sea salt and freshly ground black pepper
1 cup flat leaf parsley
1 cup mint leaves
1 tsp finely chopped green chilli (less or more if you want)
2 cloves garlic, crushed or finely chopped
1 tsp cumin seeds, toasted and coarsely ground
3 Tbsp fresh lime juice
3 Tbsp extra virgin olive oil
sea salt and freshly ground pepper
Wash and chop kumara into slices about 1cm thick, place on baking tray, drizzle with a little olive oil and season with sea salt and freshly ground pepper. Roast in preheated 200 C/400 F oven for 25-35 mins or until golden and tender. Remove and set aside.
To make chimichurri place flat parsley, mint, chilli, garlic, cumin, lime juice and olive oil into a food processor (you need a mini processor for this small amount or do as I did and finely chop the herbs by hand, then mix in the rest of the ingredients) blitz until smooth, season well with salt and pepper.
Combine quinoa, roast kumara, chimichurri and a few sprigs of extra flat parsley and mix to combine. Turn out into a serving bowl and eat. I ate it at room temperature but you could eat it warm or even eat it cold the next day. (I had it for lunch the next day, just add an extra squeeze of lime juice and some salt and pepper as the flavours mellow a little as leftovers).
* To cook quinoa put 1 cup of water on to boil, rinse 1/2 cup quinoa well (to remove the saponin, a bitter protective coating) and drain. The easiest way to do this is to put the raw grain into a fine mesh sieve and rinse under running water, then set aside to drain while the waters coming up to the boil. When your waters boiling, add the rinsed quinoa, cover and turn down to a gentle simmer and cook for 15 mins until the grains become translucent and an unusual outer white ring shows. Remove from the heat and fluff up with a fork. 1/2 cup raw= 2 cups cooked quinoa.




Responses
Ooh, that sounds so good! I have quinoa for breakfast most days (we buy it through our co-op, so the price isn't too bad), so I don't usually think to cook it for dinner… but I have to try this recipe! Thanks!



Your welcome Alice. I just checked out your site. Awesome stuff!



edit this on August 3, 2010 at 2:20 am |

jane galloway

Hi Emma,
Your blog is a neat way to keep up with family and thanks so much for new food inspiration!
Great pics by the way. You should make a book.
Come over some time and Stu can show you the Blurb site.
Love,
Jane



Hi Jane, Thanks! That means a lot coming from you. The dream is to make a cookbook one day for sure. xx



This looks delicious Emma, I'm going to have to give it a try just as soon as I start seeing late-summer / early fall squash start showing up at our markets. Thanks for the inspiration. -h



You are more than welcome Heidi



We are having some friends over for a barbecue this afternoon, I think a side dish of your quinoa recipe will be much tastier than the traditional Aussie pasta salad. Off to buy limes
Marty



Awesome, Enjoy!