Four years ago today I became a Mum. Right about now, I was in the birthing pool, pushing and screaming, only moments away from seeing one of the two most beautiful little things I've ever layed my eyes on (Kye being the other.) The whole birthing process really is amazing, actually us humans beings are amazing. I would never have thought just how much my life was about to change, and even if someone had mentioned it to me I doubt I would have listened let alone fully understood what they were saying.
So today we celebrated. I had it all planned out weeks ago, Ada's birthday cupcakes would be my first post. It all seemed a little too perfect you know, starting a blog that was inspired by our new eating habits since having kids with allergies, on the actual day my life changed so dramatically, with none other than Ada's birthday cakes. Hmmmmm yep. But just as in real life, it didn't turn out quite as I had planned. As much as it has stressed my neurotic Virgo self I've had to just let go and go with it. So what happened is the cupcakes turned out to be not only the ugliest cupcakes ever, but also the driest and most gag-inducing cupcakes I've ever tasted! Ah gotta love gluten-free cooking! Yep life ain't always so perfect. But it doesn't need to be, Ada had a great day and has been thanking me all day for a party that was amazing in her four-year old eyes, bless.
Thankfully for me and you though, this has been a week of birthdays! My older sister also celebrated her birthday this past week and the cake I made for her turned out to be the most flavoursome and beautifully moist gluten and dairy free cake I have ever tasted. It is the closest thing I have tasted to the real thing, you know by 'real' I mean chocolate cake made with wheat and dairy. It was heavily inspired by a chocolate apple cake I found in The Australian Women's Weekly Gluten-free & Allergy-free eating cookbook I received as a gift from my much-loved Nana. I took a piece up to Nana the following day as my way of saying thanks for the amazing cookbook, these are her (hands) above and in the main picture, I just love her delicate plates.
Feel free to use the same amount of grated apple in place of the pear. (admittedly the pear does give a slight grainyness to the texture, but no less delicious.) When I grated the pear there was a lot of excess pear juice, that I poured into a glass and drank rather than tipping it into the mix. If you use apple or firmer pears however, you won't have to worry about this.
I decided to flavour the icing with orange, as I knew there were going to be lots of kids there and kids just adore that Jaffa flavour. As a child it was such a treat when mum added orange juice to our carob icing. Yep carob. We were brought up super healthy, and I love my parents for that. Mum cooked with wholemeal flour, used only raw or brown sugar and would use carob in place of cocoa. I still remember eating cakes like banana cake at friends houses, and wondering why they tasted so different from mums. Equally as nice, but just different. It was years later when I realised why. Anyway back to the icing, sorry to digress. I added orange zest as well as the juice simply because I love the added flavour. But just a note: if you are trying to achieve a lovely smooth finish on your cake, omit the zest and just go with the juice. Say if you are trying to impress someone with your amazing baking and icing skills, leave it out or they might think the lumps and bumps it causes are from un-sifted icing sugar! Family on the other hand don't seem to mind.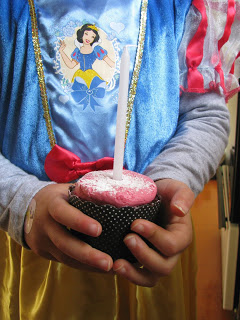 I just had to add one photo of the disappionting cupcake!
Unlike many, no actually most gluten-free cakes this one is beautifully moist even the next day, if it survives that long! And actually I think the texture improves overnight. So from me to you, enjoy and Happy birthday My Darling Lemon Thyme Ada. Xx

Chocolate pear cake recipe
This recipe is gluten-free and dairy-free. If you do choose to use apples in place of the pears, grate and then finely chop and then lower the amount of linseed meal to 1/4 cup (30g). You can easily grind the linseed yourself if you own a coffee/spice grinder or even in a blender in larger amounts. Keep any excess in the fridge and use sprinkled over breakfast cereals, porridge or salads. Or alternatively purchase pre-ground ones. Your just going to have to trust me on the very small amount of raising agent used, I too was tempted to add baking powder also, but it really doesn't need it.

2 large ripe pears (600g)
3/4 cup (120g) potato starch
3/4 cup (90g) brown rice flour
1/4 cup + 1 Tbsp (35g) cocoa powder
1 cup (200g) brown sugar
1 teaspoon baking soda
1/3 cup (40g) linseed meal (ground linseed)
4 eggs, lightly beaten
1 cup (250ml) rice bran oil
1 teaspoon pure vanilla extract
Chocolate orange icing
1 1/2 cups (185g) pure icing sugar (make sure it's gluten-free)
4 tablespoons cocoa powder
4 tablespoons melted dairy-free margarine (or use butter if you tolerate)
the zest and juice of 1 orange
boiling water to thin
Preheat oven to 180 C/350 F. Grease a 23cm (9inch) cake tin and line the base with a round of baking paper. Set aside.
Grate the pears over a plate. Discarding any large pieces of skin that wont grate. Pour grated pear into a sieve over a bowl and let any excess liquid drain off. Sift dry ingredients into a large bowl. Stir in grated pear, linseed meal, eggs, oil and vanilla. Mix well. Pour into cake tin and bake for about 45 mins or until a skewer comes out clean when pushed into the centre of cake.
Leave in the tin at least 5-10mins before turning out onto a cooling rack to cool. Ice with Jaffa icing once completely cool.
To make icing sift the icing sugar and cocoa into a medium bowl, add melted dairy-free spread/butter, zest and juice. Mix adding enough boiling water to achieve a good smooth spreadable consistency.
Responses
This sounds delicious! I'm going to try it asap!

Emma, this is fantastic! Such a great first post and I loved all the photo's that went with it. I didn't realise your passion for gluten free/dairy was because of family allergies – so I learnt a lot. I think Ada would have had a magical birthday… xx

edit this on July 7, 2010 at 2:57 am | Reply

haideestar

Wow , very well written , cake looks absolutely delightful & pictures are cool , you are a STAR ! Keep it up I will be reading !

edit this on July 7, 2010 at 2:58 am | Reply

Janna Hawkins

Yum… I love pear with chocolate!!

edit this on July 7, 2010 at 6:24 am | Reply

Thi Khuong Tranter

i'm so loving what you've written so far. it is so personal and honest, very beautiful writing emm. xx

edit this on July 7, 2010 at 6:44 am | Reply

kate hull

yum. clever mama!

edit this on July 7, 2010 at 8:43 am | Reply

Brenda

Yum! Yum! Yum!

edit this on July 7, 2010 at 8:51 am | Reply

Ben Galloway

nice writing style sis. . much more interesting than I expected!

haha gee thanks beno! Can't say I'm quiet up to your witty standards though aye !! xx emm

edit this on July 7, 2010 at 9:51 am | Reply

Trina Edwards

Amazing blog Emm keep it coming

edit this on July 7, 2010 at 10:13 am | Reply

tara mckinley

thanks for sharing Emma…I'm all over that cake!!