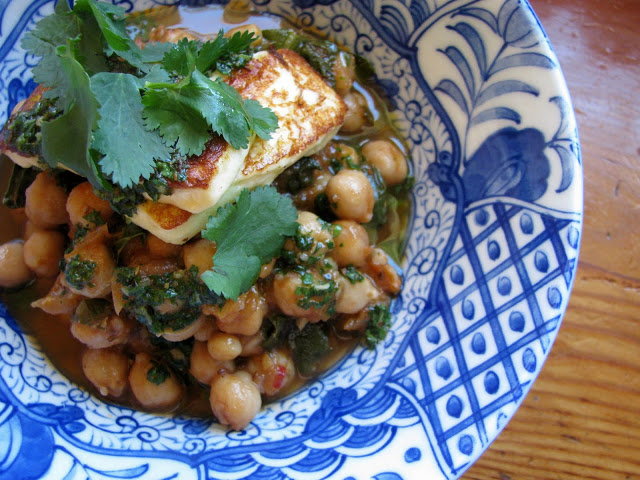 With more and more sun making an appearance over the last few days (even though the rain is back again today!), a few daffodils popping out over at nana's and spring fast approaching, I am starting to think about a summer garden. This month is the best time to get those tomato seeds into trays and get them growing, all ready for planting out come labour weekend (Oct). I'm going to buy some seed potatoes to plant next time I'm in the big city too and hopefully we'll be eating new potatoes come Christmas time. Yum.
This simple recipe for braised chickpeas is bursting with flavour, the grilled haloumi adds a lovely texture and saltiness that pairs perfectly with the lightly spiced chickpeas. Mojo verde is a citrus-based sauce popular in Caribbean and South American cooking. It adds a fresh hit of flavour which is just the thing to wake up the dear ol' chickpeas. I've used perpetual spinach, as we have loads of it growing in our garden at the moment. I love it because it's more like a silverbeet leaf, larger and firmer in texture than regular spinach and the leaf grows flat, thus saving time when washing to remove critters. Slugs and snails seem to just love hiding in the curled over edges of regular silverbeet. Grow perpetual spinach and your problems solved. I get my seeds online from kings seeds. Check out here for further information on what you could be getting ready to sow come spring. Happy gardening and eating!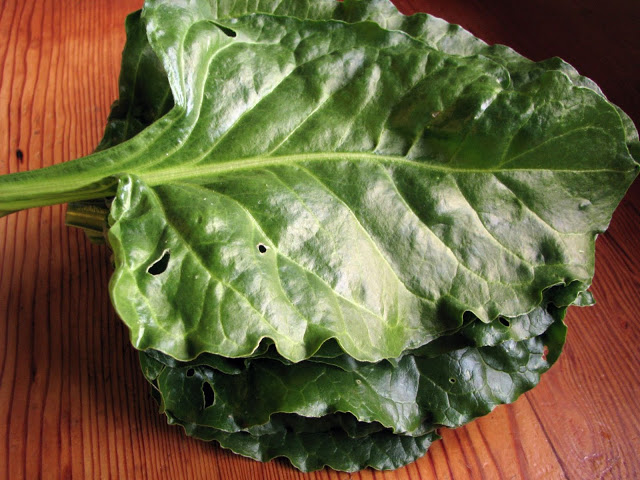 This recipe is ever so slightly adapted from a Ginny Grant recipe featured in Cuisine magazine September 2009.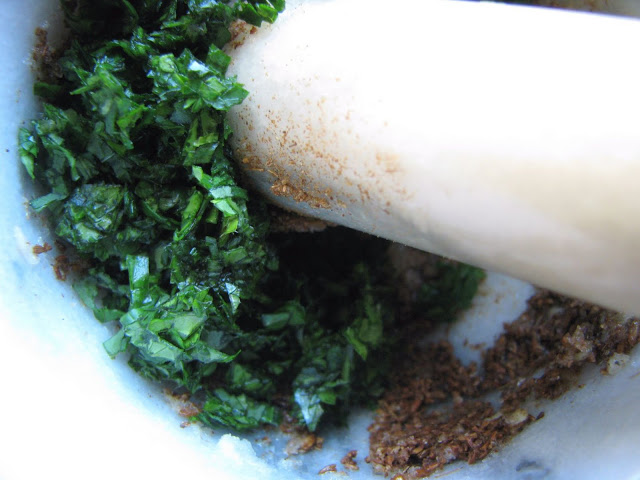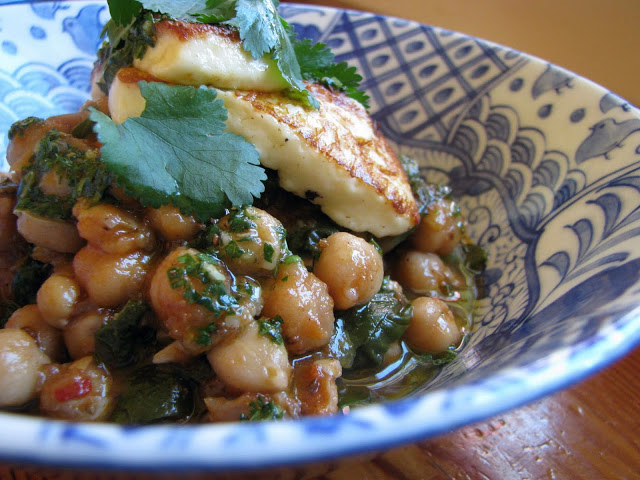 braised chickpeas with spinach, mint, haloumi & mojo verde recipe
This recipe is vegetarian, gluten-free and by omitting the haloumi it would be vegan and dairy-free too. Silverbeet can be used in place of the spinach. The mojo verde keeps in the fridge for 4-5 days and can be used to add extra flavour to things such as pasta dishes or boiled potatoes. Serves 3-4 as a main or 6-8 as a side
mojo verde
2-3 small cloves garlic
1 teaspoons cumin seeds, toasted and ground
3/4 teaspoon sea salt
1/2 cup tightly packed coriander leaves
1/2 cup tightly packed mint leaves
2 tablespoons lemon/lime juice
4 tablespoons olive oil
Braised chickpeas
1 1/2 cups non-heat treated dried chickpeas, soaked overnight (or 2 x 400 g cans, drained and rinsed)
2 tablespoons olive oil
2 medium onions, finely chopped
4 cloves garlic, finely chopped
1/2-1 teaspoon dried chilli flakes
2 teaspoons freshly ground cumin ( do this when roasting and grinding for mojo verde, above)
2 tablespoons tomato paste
150-200 g spinach/silverbeet, washed well, stems discarded and roughly chopped
sea salt and freshly ground black pepper
200 g haloumi cheese, cut into 5mm slices
To make the mojo verde. Blend the garlic, cumin and salt in a small food processor and herbs, lemon juice and olive oil and blend till emulsified. Or do as I did and crush the garlic with the cumin and salt in a mortar and pestle, finely chop the herbs and add to garlic, mix in lemon juice and oil. Set aside.
For the braised chickpeas. Drain the chickpeas. Place in a saucepan with fresh water to cover (don't add salt at this point or the skins will not soften), and simmer until tender (45 mins-1 1/2 hours). When cooked, drain, reserving the cooking liquid.
In a medium saucepan heat the olive oil and sweat the onion for about 10 mins, until soft but not coloured. Add the garlic, chilli flakes and cumin and cook for a few more mins. Mix in the tomato paste, then add the chickpeas, stirring a few times to coat. Add 2 cups of the cooking liquid (or water if using canned chickpeas). Add the spinach/silverbeet, stirring well to combine and cook until spinach wilts and the chickpeas heat through. Season to taste.
Panfry the haloumi slices over a medium heat in a little olive oil till golden brown on both sides, about 1 minute each side. (I find a small palette knife is great to turn the slices with).
To serve. Spoon braised chickpeas into bowls, top with haloumi and drizzle over some mojo verde.
Responses